Great movies entertain and move you with compelling characters in faraway lands. Amazing movies inspire you to actually visit those places! And there are dozens of awe-inspiring famous movie locations around the world that are accessible to you RIGHT NOW.
I'm not talking about private properties, studio backlots or the depths of darkest Peru… I'm talking about national parks, cafés, castles, beaches, hotels and museums. Real, tangible places all over the world that are wide open to visitors. Adventure is out there! And with the locations of movies dotted around the globe from America to Australia, you're just a flight or train ride away.
Have you ever felt compelled to follow in the footsteps of Frodo Baggins, raid tombs with Lara Croft or have whatever she's having with Sally from When Harry Met Sally? Then you NEED to read this list of the best and most famous filming locations of movies you've already watched over and over again. These are famous movie locations every self-respecting movie lover dreams of visiting.
Famous Movie Locations You Can Visit Today!
Note: Almost Ginger is a cinema and travel blog so years of extensive research has gone into this filming locations blog post. Feel free to ask for any expert advice on visiting movie locations (in the comments section or via the contact page) and I'd be happy to help!
Famous Movie Locations in Europe
Café des Deux Moulins as seen in Amélie (2001)
Where: 15 Rue Lepic, 75018 Paris, France
Read more: Amélie Filming Locations in Paris, France
The streets of Paris feature in hundreds of films so it's apt we begin our journey of iconic movie locations around the world here. Amélie is a whimsical French comedy about the life of one timorous young woman and her observations of the city and people around her. She works at a café, Café des Deux Moulins, in Montmartre and today it looks just as ruby red and inviting as it did in the film 20 years ago! Absolutely one of the best film locations in Paris.
Royal Palace of Caserta as seen in Angels and Demons (2009)
Where: Piazza Carlo di Borbone, 81100 Caserta CE, Italy
Read more: Angels and Demons Filming Locations in Italy
What happens when you're filming a movie in Italy which rips into everything the Catholic church holds dear and 50% of it is set in Vatican City? You use the Royal Palace of Caserta near Naples as a stand-in, of course! And this is just what Angels and Demons and Mission: Impossible III (2006) did. Built during the mid-1700s, the Royal Palace of Caserta is a UNESCO World Heritage Site and the largest royal residence in the world. It was also used as a filming location in Star Wars Episode I: The Phantom Menace (1999) to serve as the palace on Naboo.
Odesa Steps as seen in Battleship Potemkin (1926)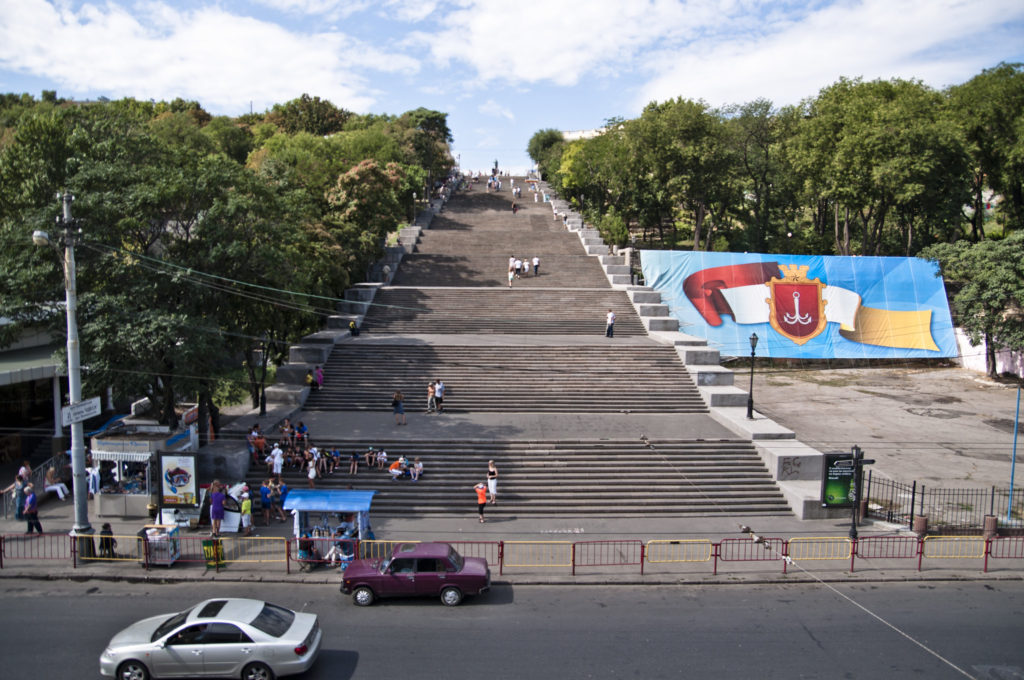 Where: Odesa, Odesa Oblast, 65000 Ukraine
This is a shooting location to be appreciated by the finer film fan. Sergei Eisenstein's cinematic classic Battleship Potemkin used this harbourside staircase to backdrop his groundbreaking montage of a baby carriage propelling down the steps away from a horrified mother. So famous, Brazil (1985), The Untouchables (1987) have both parodied this exact scene. Eastern Europe doesn't get a lot of love from Hollywood, unfortunately. So, the Potemkin Steps in the Ukrainian city of Odesa is an oddity on this list of famous movie locations.
Promenade Plantée as seen in Before Sunset (2004)
Where: 1 Coulée Verte René-Dumont, 75012 Paris, France
Read more: Before Sunset Filming Locations in Paris, France
What happens nine years after you reunite with an American man whom you met on a train from Budapest to Vienna and spent one life-changing night with during your early 20s? Take him on a mini walking tour of your hometown, of course! The follow up to 1995's Before Sunrise, the Promenade Plantée is one of the many Parisian filming locations featured in Before Sunset. The park is actually a disused railway line-turned-green space, like New York's High Line.
Curracloe Beach as seen in Brooklyn (2015)
Where: Coolrainey, Curracloe, Co. Wexford, Ireland
Read more: Brooklyn Filming Locations in Ireland, New York & Canada
There isn't a better movie that expresses the pain and heartache of moving abroad and starting a new life. Especially one with such gorgeous movie film locations! Brooklyn follows a young Irish girl who sets sail for a new life in America sometime in the 1950s. Featuring filming locations both sides of the pond, it's Curracloe beach in County Wexford that had movie-goers dreaming of summers in Ireland.
Belfry of Bruges as seen in In Bruges (2008)
Where: Markt 7, 8000 Brugge, Belgium
Read more: In Bruges Filming Locations in Bruges, Belgium
Not one of the most famous Hollywood film locations, but one of the most unusual. The medieval city of Bruges was the movie location of choice for this darkly comedic film about a pair of assassins instructed to hideout in Belgium after a job went awry. In Bruges shot all over the city, but it's the Belfry of Bruges that is one of the most notable movie places in the film. With canals, good beer and fantastic architecture, it's the perfect choice for a European city break.
Sirmione as seen in Call Me By Your Name (2017)
Where: 25019 Province of Brescia, Italy
Read more: Call Me By Your Name Filming Locations in Northern Italy
Under the Tuscan Sun (2003), The English Patient (1996)… There are so many fantastic films set in Italy. But one of the best from recent years has to be Call Me By Your Name (2017). The film focuses on a precocious 17-year-old named Elio and his relationship with the 24-year-old Grad student who joins his academic family at their Italian villa for the summer. The tourist town of Sirmione on Lake Garda features in one special scene, particularly the ruins and Jamaica Beach.
Villa del Balbianello as seen in Casino Royale (2006)
Where: Via Guido Monzino, 1, 22016 Tremezzina CO, Italy
Read more: 22 Amazing Films set in Italy to Inspire You to Visit
Italy seems to be the main place where movies were filmed out of Hollywood! And they probably will be for some time, because Italy has so much to offer. One villa that's caught the eye of multiple productions is Villa del Balbianello on Lake Como. It's one of the most famous locations you could visit in Italy. Not only did it feature in Casino Royale, but also in Star Wars Episode II: Attack of the Clones (2001).
Neuschwanstein Castle as seen in Chitty Chitty Bang Bang (1968)
Where: Neuschwansteinstraße 20, 87645 Schwangau, Germany
Read more: Chitty Chitty Bang Bang Filming Locations in Germany, England & France
Neuschwanstein Castle in Bavaria might be super-famous on Instagram right now, but did you know it's also been used for filming locations in movies? Specifically, the 1960s family classic Chitty Chitty Bang Bang! It stood in as the exterior of the palace in Vulgaria. Definitely one of the most famous movie locations in Germany and a bucket list locale for anyone hunting fairytale castles around Europe.
Nyhavn Harbour as seen in The Danish Girl (2015)
Where: København K, Denmark
The Danish Girl isn't the progressive trans film that we wanted it to be, but the scenes shot around the harbourside Nyhavn area of Denmark's capital city of Copenhagen look like paintings. It's unlikely you would head to Copenhagen without also hitting up the city's most famous site, but just in case you were… You know not to miss it. The patchwork houses might be a hotbed of activity and tourists trawling around the pavements but it's 100% worth the effort.
Rosslyn Chapel as seen in The Da Vinci Code (2006)
Where: Chapel Loan, Roslin EH25 9PU Scotland
Read more: Visiting Rosslyn Chapel, Edinburgh: The Da Vinci Code Location
The Da Vinci Code might be known for its Paris-set filming locations, but the pivotal scene set and shot in Rosslyn Chapel just outside of Edinburgh is the most memorable. Expert craftsmanship is evident both inside and out of this tiny church and its steeped in conspiracies and mystery. It's a fantastic place to visit as a little excursion from Scotland's capital city, especially for film fans.
Highclere Castle as seen in Downton Abbey (2010-2019)
Where: Highclere Park, Highclere, Newbury RG20 9RN England
There are so many amazing stately homes around England that act as movie locations in TV shows and films. But there's one that's warmed our hearts more than any other within the last decade or so. Highclere Castle was the Downton Abbey and home of the well-to-do Crawley family. Though the castle isn't open all the time because it's actually someone's real-life home (I'm not jealous…), visiting the castle is a must-do for TV fans.
Juvet Landscape Hotel as seen in Ex Machina (2014)
Where: Alstad 24, 6210 Valldal, Norway
Hotels are perhaps one of the easiest movies locations to visit because you just book a night and, boom! There you are. But the Juvet Landscape Hotel is up near the Arctic Circle in Norway so that might make visiting slightly trickier. It's the main location for the sci-fi thriller Ex Machina as a CEO's sleek ultra-modern hideout. This hotel is absolutely the best choice if you want a secluded, country break while also ticking off a fantastic filming location too.
Mini Hollywood as seen in For a Few Dollars More (1965)
Where: Carretera Nacional 340A, km 464, 04200 Tabernas, Almería, Spain
Read more: 23 Incredible Films set in Spain to Inspire You to Visit
Who knew that the dusty landscape of Southern Spain strongly resembled the desolate deserts of the Wild West? Director Sergio Leone did back in the 1960s. He shot many scenes from his Dollars Trilogy at what is now known as Mini Hollywood in Almería, Spain. Yup, the set is still there! And it's been preserved as a fun Wild West town so you can live like yellow-bellies and black hats for the day.
The Dark Hedges as seen in Game of Thrones (2011-2019)
Where: Bregagh Rd, Stranocum, Ballymoney BT53 8PX Northern Ireland
Read more: Game of Thrones Filming Locations in Northern Ireland
Whether you love it, hate it or have very strong, lengthy opinions on it… Game of Thrones has firmly cemented itself in pop culture for a long, long time. It's also encouraged many armchair tourists to get off their backsides and travel to the famous film locations in this multi-award-winning HBO drama. Game Of Thrones shot in Malta, Morocco, Spain, Croatia, Iceland, Scotland, and of course Northern Ireland where the Dark Hedges (or the King's Road in Season two) are.
Kaufhaus Görlitz as seen in The Grand Budapest Hotel (2014)
Where: An der Frauenkirche 5-7, 02826 Görlitz, Germany
Read more: The Grand Budapest Hotel Filming Locations in Germany
Zubrowka might be a fictional place, but the German city of Görlitz on the Polish border sure isn't. It's where director Wes Anderson shot the majority of his ensemble film The Grand Budapest Hotel. Locations include the old Kaufhaus Görlitz department store which was dressed up as the titular art deco style hotel. If I could live in any of the filming locations for movies on this list, it might be The Grand Budapest.
Bar Vitelli as seen in The Godfather (1972)
Where: Piazza Fossia, 7, 98038 Savoca ME, Italy
Read more: The Godfather Filming Locations in Sicily (Parts I, II & III)
Most of The Godfather is set in New York, but there's a section where Michael Corleone has to hide out in his father's homeland after a high-profile hit. Sicily in this film seems traditional, naive and savage at the same time. One of the famous movie locations from the first film is Bar Vitelli in Savoca, the bar owned by Michael's first father-in-law. It's still open and you might see one or two homages to the film inside.
Glenfinnan Viaduct as seen in Harry Potter and the Chamber of Secrets (2002)
Where: A830 Road, Glenfinnan PH37 4LT Scotland
Read more: Harry Potter Filming Locations in Scotland: A Complete Guide
Any self-respecting Harry Potter fan has either visited or dreams of visiting Glenfinnan Viaduct in the Scottish Highlands. There are many Harry Potter filming locations across Scotland and England, but this is the best and one of the most famous movie locations in the world. Grab your Nimbus 2000 (or hop in your father's Ford Anglia) and fly to the iconic viaduct to watch the Jacobite Steam train pass twice daily. Ten points to Gryffindor if you arrive on time to watch!
Old Royal Naval College as seen in The King's Speech (2010)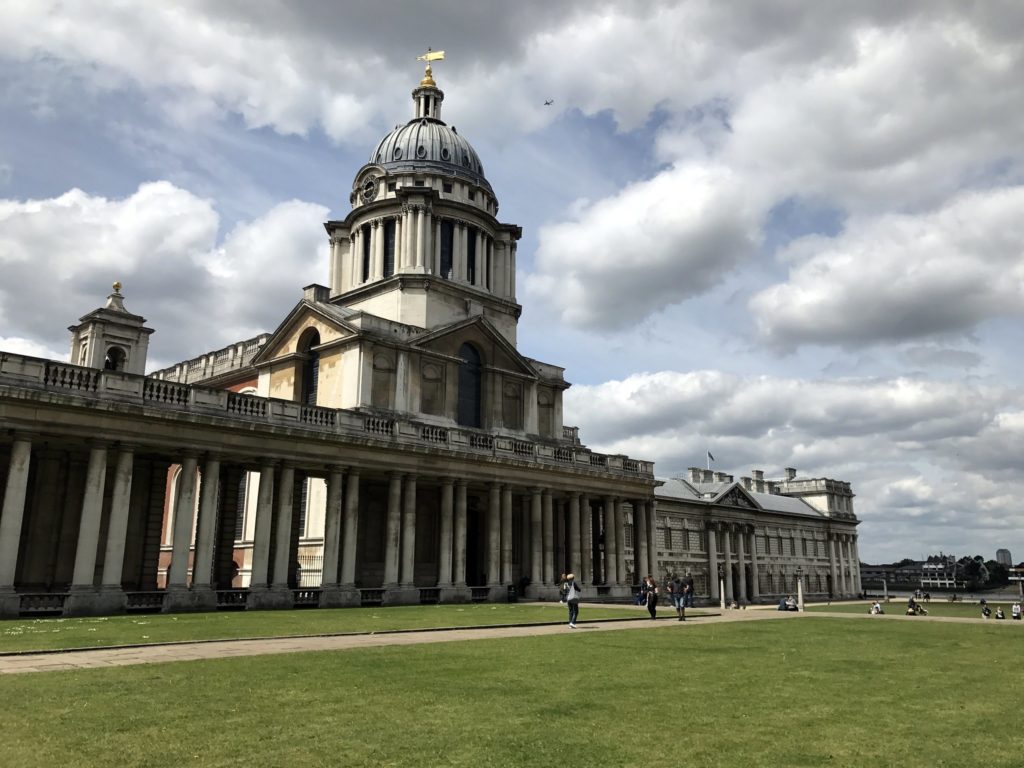 Where: King William Walk, Greenwich Peninsula, London SE10 9NN England
Read more: The King's Speech Filming Locations in England
Believe it or not, the Old Royal Naval College in London's Greenwich Park has stood in for many famous movie locations over the years. In fact, Empire Magazine called it "the most popular filming location in the world." Thor: The Dark World (2013), Pirates of the Caribbean: On Stranger Tides (2011). Four Weddings and a Funeral (1994), Les Misérables (2012) and The Crown (2019) have all filmed scenes here. The King's Speech notably used the building as a stand-in for Buckingham Palace which makes complete sense considering they were built within around 20 years of each other.
Trevi Fountain as seen in La Dolce Vita (1960)
Where: Piazza di Trevi, 00187 Roma RM, Italy
Read more: La Dolce Vita Filming Locations in Rome, Italy
The most famous fountain in the world and a pretty iconic filming location, too! At least for fans of Fellini films. I can't imagine back in 1732 that architect Salvi predicted a Swedish actress would be traipsing through his Trevi Fountain in Rome over 200 years later. But that's just what happened in La Dolce Vita. Maybe don't try it nowadays… There's usually a swarm of tourists all taking snaps and it's a very important monument.
Juliet's House as seen in Letters to Juliet (2010)
Where: Via Cappello, 23, 37121 Verona VR, Italy
Read more: Letters to Juliet Filming Locations in Verona and Tuscany
Sidestepping the fact that the original Romeo & Juliet play didn't *actually* feature a balcony and this building only dates back to the 1930s… This is Juliet Capulet's house in Verona, everyone! And the courtyard featured in the delightfully soppy romcom Letters to Juliet about the Secretaries of Juliet who respond to love letters left for Juliet. Don't forget to fondle the statue of Juliet's bosom for good luck.
Church of Agios Ioannis Kastri as seen in Mamma Mia! (2008)
Where: Skopelos 370 03, Greece
My my, how could you resist falling in love with the islands of Skiathos and Skopelos in Mamma Mia?! Specifically, the Church of Agios Ioannis Kastri where Sophie's wedding is held high on top of a hill. There aren't many famous movie locations shot in Greece, but Mamma Mia more than makes up for that.
Palace of Versailles as seen in Marie Antoinette (2006)
Where: Place d'Armes, 78000 Versailles, France
Read more: Marie Antoinette Filming Locations in France
Can you *believe* that whoever runs the Palace of Versailles near Paris let Sofia Coppola shoot her anachronistic display of debauchery called Marie Antoinette wherever she wanted? Well, they did! The palace has over 700 rooms and is almost 400 years old so it can't have been easy persuading them. It's one of the most fun films set in France and it really is the most decadent palace I've ever seen.
Shakespeare & Company Bookshop as seen in Midnight in Paris (2011)
Where: 37 Rue de la Bûcherie, 75005 Paris, France
Read more: Midnight in Paris Filming Locations in Paris
Shakespeare & Company bookshop has been a Paris institution since the 1920s when James Joyce and Ernest Hemingway frequented. Today, it's a refuge for starving writers nicknamed "tumbleweeds", an English-language bookshop for tourists and a popular movie location. Not only did it feature at the end of Midnight in Paris, but in Before Sunset and Julie & Julia (2009) too.
Doune Castle as seen in Monty Python and The Holy Grail (1975)
Where: Castle Hill, Doune FK16 6EA Scotland
Read more: Doune Castle: Outlander, Monty Python & Game of Thrones Location Guide
The hilarious one-liners aren't the only memorable thing about Monty Python and The Holy Grail. The rugged Scottish and English film locations are pretty awesome, too. Doune Castle is one of the most prolific locations in cinema these days, having also featured in the Game of Thrones pilot and the Outlander TV show as Castle Leoch. Just remember to not pay attention to a knight farting in your general direction.
The Notting Hill Bookshop as seen in Notting Hill (1999)
Where: 13 Blenheim Crescent, Notting Hill, London W11 2EE England
Read more: Notting Hill Filming Locations in London
This is just a travel bookshop, situated in Notting Hill, asking a big-budget Hollywood rom-com to film there. Hugh Grant's broke bookshop owner hits the jackpot when he meets Julia Robert's famous actress in his humble London neighbourhood in the rom-com Notting Hill. The store is now called The Notting Hill Bookshop but it's very much still open for you to wander through the aisles stacked with dusty memoirs and guidebooks.
Belchite as seen in Pan's Labyrinth (2006)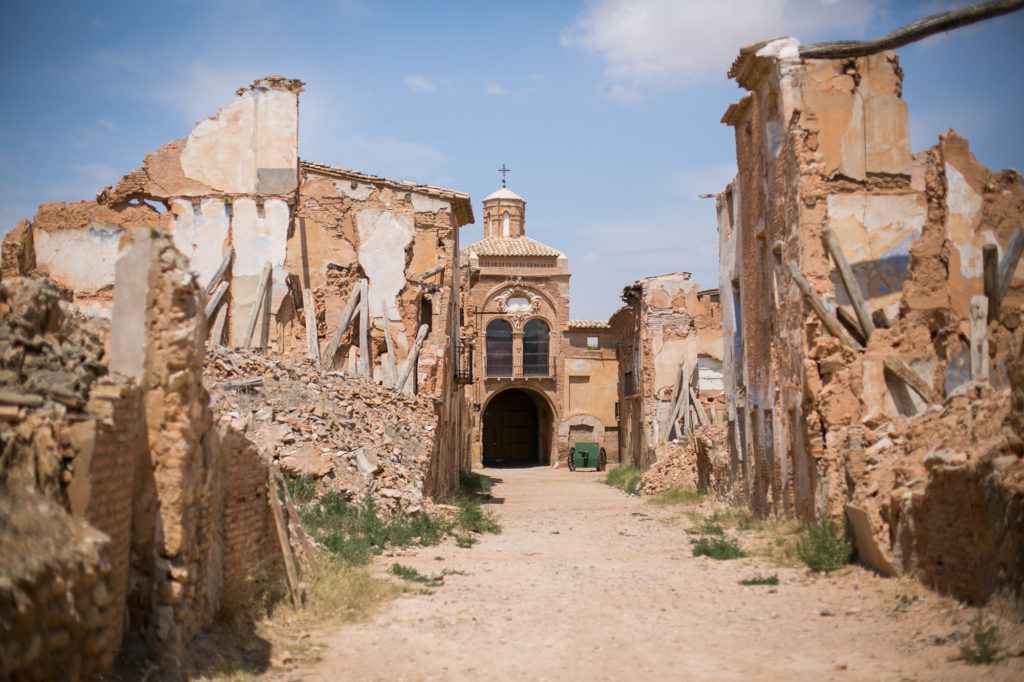 Where: 50130, Zaragoza, Spain
Read more: 23 Incredible Films set in Spain to Inspire You to Visit
Belchite, not far from Catalonia, in Spain is one of those heartbreaking, ruined cities which has been somewhat revived as a movie location. Both sides bombed and obliterated this entire town during the Spanish Civil War between 1936-1939, leaving only rubble and buried corpses. Pan's Labyrinth is set just after the Spanish Civil War so it's fitting the production shot there, and Belchite also appeared in Spider-Man: Far From Home (2019) as a ransacked Mexican village.
Umschlagplatz as seen in The Pianist (2002)
Where: Speicherstraße 6, 44147 Dortmund, Germany
Read more: The Pianist Filming Locations in Poland
Let's keep the happy times rolling with a film about the holocaust and a real-life location used for the film. The Pianist is inspired by the true story of a Polish-Jewish musician who attempts to evade capture during WWII. Umschlagplatz is located in an old Warsaw ghetto and is where the Nazis held Jewish people before transporting them via train to death camps. The film shot in the real-life location, where there is now a memorial resembling a freight train carriage with its doors open.
Popeye Village as seen in Popeye (1980)
Where: Triq Tal-Prajjet, Il-Mellieħa, Malta
Read more: 36 Films shot in Malta to Watch Before You Visit
The film set created for Popeye on the west coast of Malta was so good, the country decided to keep it and turn it into a little amusement park! How awesome is that? Now, there's a whimsical fishing village aptly named Popeye's Village you can visit and pretend you're a cartoon fisherman! Eat fish and chips, sail across the high seas and maybe you'll run into Olive Oyl, Popeye and Swee'Pea if you're lucky.
Cliffs of Moher as seen in The Princess Bride (1987)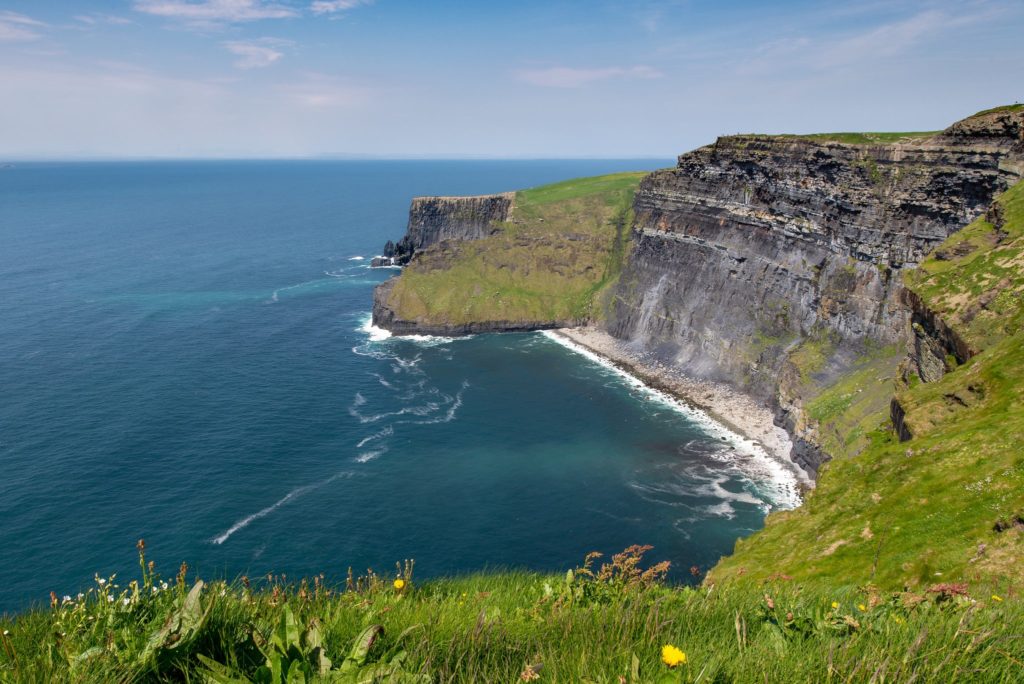 Where: Burren Way, Shingaunagh North, Co. Clare, Ireland
Read more: The Princess Bridge Filming Locations in England & Ireland
Definitely one of the most iconic and most famous movie locations in the world. But you might better know the Cliffs of Moher in County Clare as the Cliffs of Insanity. Yes! The mythical cliffs in Rob Reiner's The Princess Bride are one of Ireland's most popular tourist attractions. If you're planning an Irish road trip, you have to brave the wind and check them out. But I wouldn't try scaling them as Dread Pirate Roberts did in the film. The view is much better from the top, anyway.
Wicklow Mountains in P.S. I Love You (2007)
Where: R759, Co. Wicklow, Ireland
Read more: P.S. I Love You Filming Locations in Ireland
It's unlikely that you'll run into the love of your life on a remote, one-track road in the middle of Ireland's Wicklow Mountains, but it happened in P.S. I Love You! Though most of the film is set in New York, the locations in County Wicklow and Dublin are the most wanderlust-inspiring. Just hop on a plane to Dublin, drive a couple of hours, and take a stroll on the old long walk of a day-i-ay-i-ay… Let's hope you meet an Irishman with a proper Irish accent and not whatever Gerard Butler croaked out in the movie.
The Mouth of Truth as seen in Roman Holiday (1953)
Where: Piazza Della Bocca Della Verità, 18, 00186 Roma RM, Italy
Read more: Roman Holiday Filming Locations in Rome, Italy
The legend says that if a liar places his hand in the Mouth of Truth in outside a church Rome, it will be eaten. Unfortunately, the quirky marble face is roped off so tourists can't actually attempt this like Audrey Hepburn and Gregory Peck did in Roman Holiday. But that doesn't stop them queuing for a photo opportunity! It's fairly near the Colosseum so definitely an accessible movie location to visit on your next trip to Rome.
Piłsudskiego Bridge as seen in Schindler's List (1993)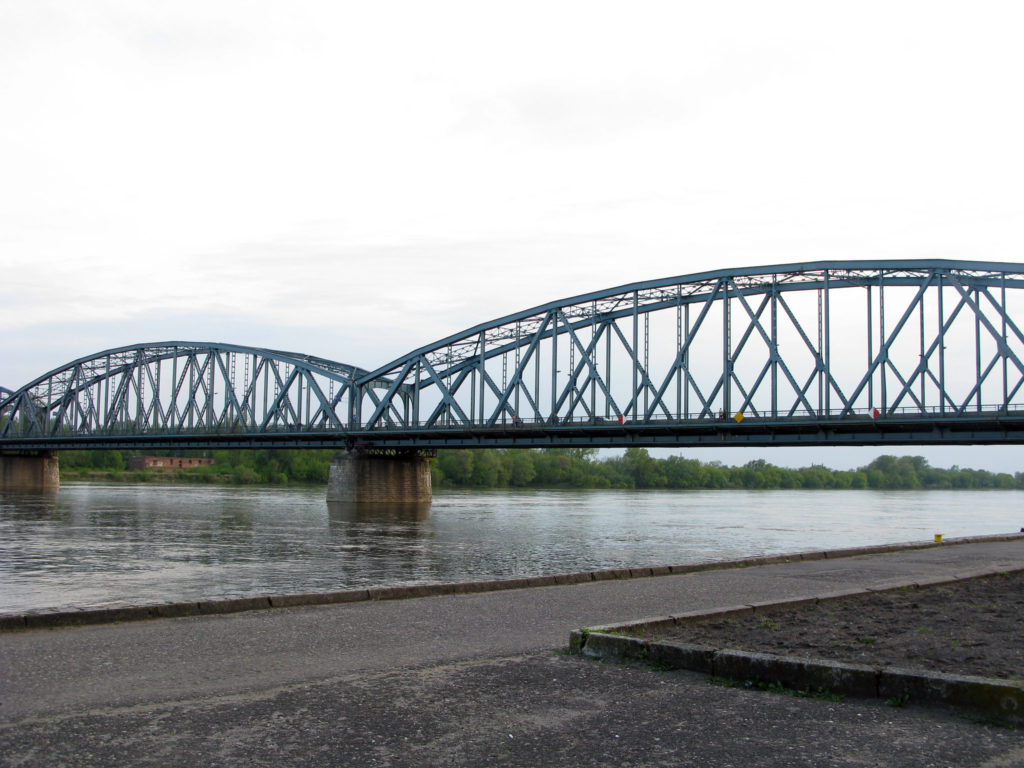 Where: Most Marszałka Józefa Piłsudskiego, 33-332 Kraków, Poland
Read more: The Schindler's List Filming Locations in Poland
Steven Spielberg kept his 1993 holocaust epic Schindler's List as realistic as possible, shooting scenes where the real-life events occurred in Kraków, including the Oskar Schindler's actual apartment. Piłsudski Bridge is where the Nazi officers marched Jews across from the ghetto to the Radziwie district. Not the most thrilling of filming locations but an important and historic one.
Kirkjufell Mountain as seen in The Secret Life of Walter Mitty (2013)
Where: Road 54, Grundarfjorour 350 Iceland
Read more: The Secret Life of Walter Mitty Filming Locations in Iceland & New York City
Sometimes you need a push to seek adventure, like Walter Mitty, but it's always worth it when you do. In The Secret Life of Walter Mitty, a search for a lost file negative takes the titular protagonist on a quest through Greenland, Iceland and the Himalayas. In reality, Iceland was the only country utilised for locations outside of the USA. But what a cinematic country it is! Though Walter might have longboarded down a mountain, I think just hiking to Kirkjufell mountain is enough adventure for most of us.
Residenzplatz as seen in The Sound of Music (1965)
Where: Residenzplatz 4, 5020 Salzburg, Austria
Read more: The Sound of Music Filming Locations in Salzberg, Austria
Climb every mountain, ford every stream, wander every city square until you find Maria… Something like that, right? The classic musical The Sound of Music is set in Salzburg, and that's exactly where most of the outdoor locations were filmed! Residenzplatz is a stunning, clean white plaza with a golden fountain which Maria stops to wash her face in while travelling from the convent to Captain Von Trapp's mansion. One of the most famous movie locations for any lover of musicals!
The Fairy Glen as seen in Stardust (2007)
Where: Highland Skye, Uig IV51 9YG Scotland
Read more: Stardust Filming Locations in Scotland & England
It's no wonder this magical fairytale-esque adaptation decided to shoot many scenes in Scotland, where myths and folklore are weaved into the National identity. Heck, their national animal is a unicorn, for crying out loud. The Fairy Glen near the village of Uig in the Isle of Skye is where Lamia and Ditchwater Sal meet near the beginning of the film and it's a truly enchanting backdrop and amazing place to visit.
Skellig Michael as seen in Star Wars Episode VIII: The Last Jedi (2017)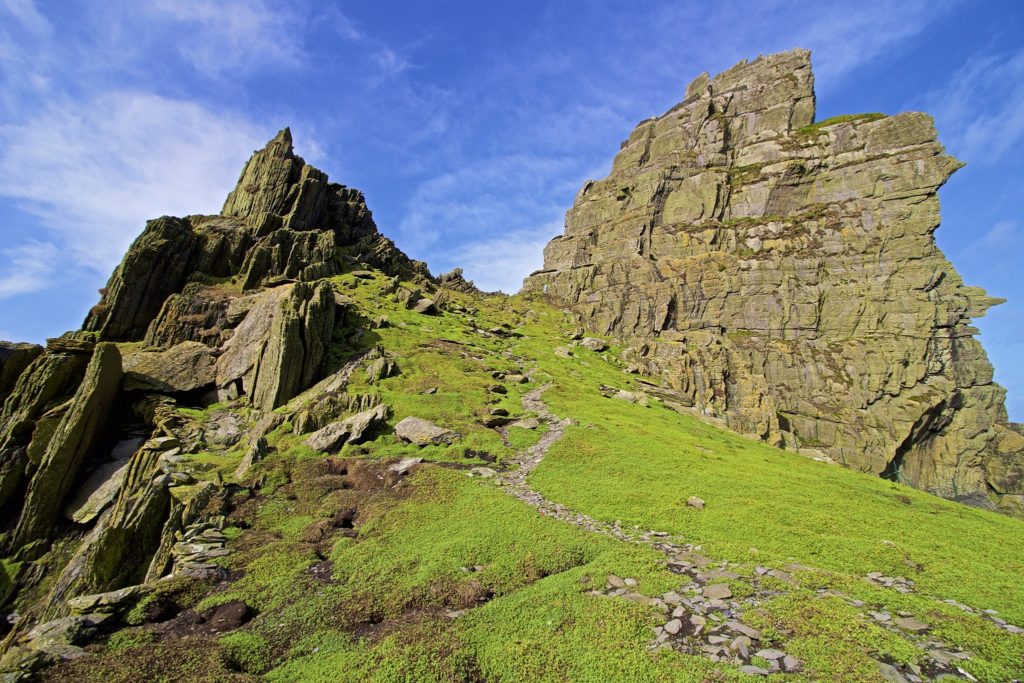 Where: Skelling Islands, Co. Kerry, Ireland
This is the fourth and final time Ireland is appearing on this list of iconic movie locations you can actually visit, but this is possibly the most popular movie location of them all. Despite its remoteness. And it's thanks to a little film series called Star Wars. Skellig Michael plays the role of the faraway planet named Ahch-To where Luke Skywalker is in hiding at the end of The Force Awakens (2015) and nearly all of The Last Jedi. The little puffins that populate the UNESCO World Heritage Site were morphed into porgs via CGI. Because if you weren't already dying to visit Skelling Michael, YES, there are puffins!
Spanish Steps as seen in The Talented Mr Ripley (1999)
Where: Piazza di Spagna, 00187 Roma RM, Italy
Read more: The Talented Mr Ripley Filming Locations in Italy
There aren't many wanderlust-inspiring thrillers out there. Probably because the words "wanderlust" and "murder" don't tend to pair well together. But they do in The Talented Mr Ripley where Matt Damon's Tom Ripley cons and lies his way around the Italian islands, Rome and Venice. Tom hides at the top of the Spanish Steps in Rome while spying on his pals, and I suppose if you're going to cheat your way to the top you may as well do it somewhere bloody lovely like Rome.
Riesenrad Ferris Wheel as seen in The Third Man (1949)
Where: Riesenradplatz 1, 1020 Wien, Vienna, Austria
Read more: The Third Man Filming Locations in Vienna, Austria
The Riesenrad Viennese Ferris Wheel not only features in the black and white classic film The Third Man, but it's where Celine and Jesse share their first kiss in Before Sunrise (1995). It first opened in 1897 which might put some people off for safety reasons but you have to admit, they don't make 'em like this anymore! It's still one of the most popular tourist attractions in Vienna and an iconic filming location.
Hotel Carlton as seen in To Catch a Thief (1955)
Where: 58 Boulevard de la Croisette Cs 40052, 06400 Cannes, France
Read more: To Catch a Thief Filming Locations in the South of France
Alfred Hitchcock shot his South of France-based crime movie To Catch a Thief all over the area including Monaco, Nice and of course Cannes. The Croisette is the main beach-front street lined with glitzy hotels, including the Hotel Carlton which is where Grace Kelly's character stays in the film. This is a shooting location you can absolutely visit, providing you have a few ££ to pay for a room!
Tibidabo Amusement Park as seen in Vicky Cristina Barcelona (2008)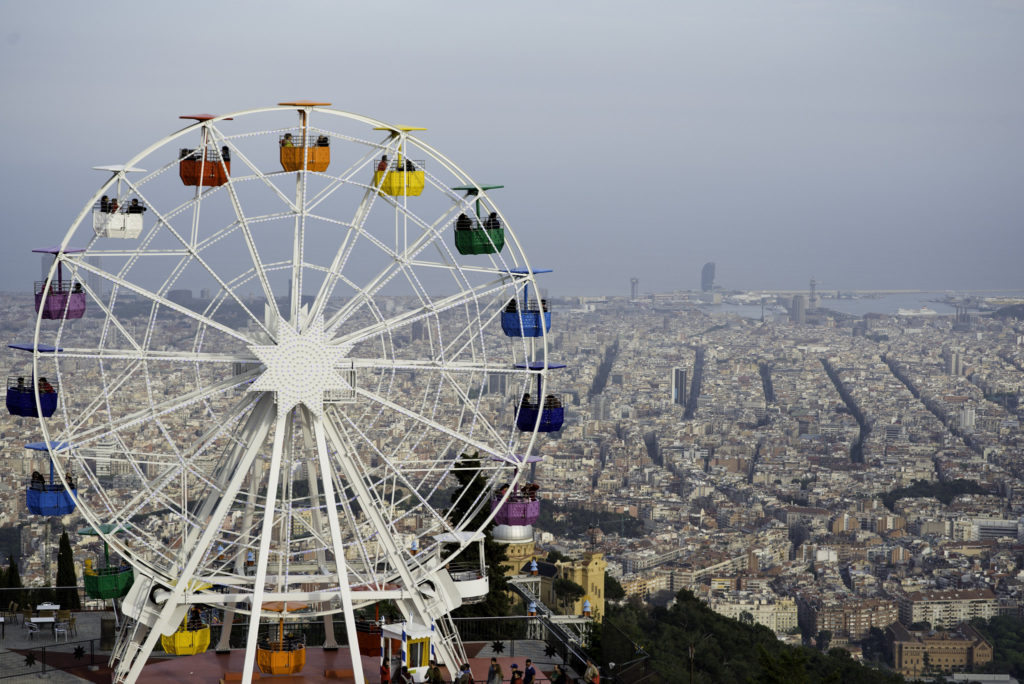 Where: Plaça del Tibidabo, 3, 4, 08035 Barcelona, Spain
Read more: Vicky Cristina Barcelona Film Locations in Barcelona and Oviedo, Spain
There's barely a cobbled side street, bar or tourist attraction in Vicky Cristina Barcelona doesn't feature. So it would be odd if the Tibidabo Amusement Park didn't pop up eventually! It's a fairground that sits on Mount Tibidabo literally on the edge of the Catalonian capital city and the views are absolutely stunning. Bet you didn't think there would be so many Ferris wheels on this list of famous movie locations.
Haweswater Reservoir as seen in Withnail & I (1989)
Where: Bampton, Penrith, CA10 2RP England
Read more: Withnail & I Filming Locations in the Lake District, UK
This is one of the best filming locations near me, the ginger woman writing this list, so I had to include it! Withnail & I is a British comedy classic and shot in several places around the village of Shap in Cumbria, Northwest England. The out-of-work London actors who travel up here on holiday (by mistake) walk along the banks of Haweswater Reservoir not far from their cosy cottage. If you've not seen it, it's one of the best movies filmed near me and I fully recommend it.
Famous Movie Locations in Africa
Aït Benhaddou as seen in Gladiator (2000)
Where: Douar Ait Ben Haddou, Ait Ben Haddou 45000 Morocco
Read more: Gladiator Filming Locations in Morocco, Malta & Elsewhere
Can you actually believe a place like this exists on earth?! Luckily it does, because a lot of movies have utilised Aït Benhaddou in Morocco, a tiny fortified UNESCO World Heritage site town, as a movie location. Aside from Gladiator, The Mummy (1999), Alexander (2004), Kingdom of Heaven (2005), Prince of Persia: The Sands of Time (2010), and Game of Thrones have all shot scenes here.
Masai Mara as seen in Out of Africa (1985)
Where: Ngiro-are Road, Kenya
Perhaps the most difficult of all the iconic filming locations to travel to, but absolutely the most rewarding. The Meryl Streep and Robert Redford epic Out of Africa shot on location in Kenya's Masai Mara. Head there during the Great Migration between May and December and hopefully, you'll find zebras, wildebeest, lions and leopards as well as the gorgeous landscape.
Sidi Idriss Hotel as seen in Star Wars Episode III: A New Hope (1977)
Where: Matmatat-Al-Qadimal, Tunisia
Read more: Star Wars Filming Locations Around the World: A Definitive Guide
There are many hotels on this list of the most famous movie locations in the world. Partly because they're one of the easiest filming locations to visit! You just book a room and boom, job done. But there's something particularly special about the Sidi Idriss Hotel in Tunisia. It stood in for Luke Skywalker's ranch back on Tattooine in Star Wars Episode III: A New Hope and it's still open today. And it looks exactly the same today as it did 40 years ago.
Famous Movie Locations in Asia
Maya Bay as seen in The Beach (2000)
Where: Koh Phi Phi Le, Ao Nang Thailand
Read more: The Beach Filming Locations in Thailand
This is the most-visited beach in Thailand. And though you may have heard it closed in 2018, from personal experience I can tell you that boat trips still enter the cove and you can snorkel in the waters. You just can't set foot onto the beach. Maya Bay in Koh Phi Phi Lei is where Danny Boyle filmed his backpacker movie The Beach and with some CGI trickery made it seem closed off from the rest of the world. Just like in the movie!
Hongcun Ancient Village as seen in Crouching Tiger Hidden Dragon (2000)
Where: Northwest Corner, Yi County 245500 China
China doesn't feature in western films too often, so the best we have is Hongcun Ancient Village which featured in Crouching Tiger Hidden Dragon directed by Taiwanese American director Ang Lee. It may have been an untouched, almost abandoned village once but now it's very popular with tourists. Fun fact: the village is built in the shape of an ox head, with a nearby mountain as the face and houses lining the river as the horns.
Lebua State Tower as seen in The Hangover Part II (2011)
Where: 1055 Si Lom, Silom, Bang Rak, Bangkok 10500, Thailand
Read more: The Hangover Part II Filming Locations in Bangkok
Bangkok is known for its rooftop bars and one of the fanciest, shmanciest of them all is the Lebua bar at the State Tower. This is where Bradley Cooper & Co. attempt to strike a deal with Paul Giamatti to get themselves out of hot water and find the bride's younger brother in The Hangover Part II. If you go to the bar (and you absolutely should!), order the Hangovertini. It's a special cocktail that was concocted for the cast and crew that's still on the menu.
Petra as seen in Indiana Jones and the Last Crusade (1989)
Where: Petra – Wadi Musa 77110 Jordan
Read more: 17 Best Movies set in Venice, Italy to Inspire Your Trip
Named by UNESCO, "one of the most precious cultural properties of man's cultural heritage", it's no wonder everyone's favourite whip-cracking archaeologist visited here in the third film. Petra, Jordan (dubbed the Rose City because of it's pink-hued sandy colour) is a bucket list location in its own right. A wonderfully preserved, subterranean city that is unlike anything else in the world. And it's a filming location in Indiana Jones and the Last Crusade? Win-win!
Angkor Thom as seen in Lara Croft: Tomb Raider (2001)
Where: Angkor Archaeological Park ក្រុងសៀមរាប, 17000, Cambodia
Angkor Wat might be the biggest religious complex in the word, but Angkor Thom in Cambodia was the last standing capital city of the Khmer Empire. And it's a location in the very noughties film Lara Croft: Tomb Raider. The temple is quite a stunning sight, not just because of the sheer size and age, but the nature that has reclaimed the monument. As with Petra, it really is a wonder in and of itself, even if the temple wasn't a filming location.
Park Hyatt Hotel as seen in Lost in Translation (2003)
Where: 3-7-1-2, Nishishinjuku, Tokyo 163-1055, Japan
For relaxing times, make it Suntory time. I'd say sleeping in a £££-per-night hotel room in the centre of Tokyo must be quite relaxing too, eh? Once you get over the shock of how much you're spending. But think of the thread count. Bill Murray and Scarlett Johansson's characters are staying in the Park Hyatt Hotel when they form an unlikely friendship as a way to cope with their loneliness in Lost in Translation.
Phang Nga Bay as seen in The Man with the Golden Gun (1974)
Where: Ao Phang Nga National Park 81180 Thailand
Read more: The Man with the Golden Gun Filming Locations in Thailand
Christopher Lee's thrice-nippled Bond baddie Scaramanga owned one hell of an island, which is now a very popular attraction. But if you're a film fan, it's one worth visiting! James Bond Island in Phang Nga Bay is just off the northeast coast of Phuket and it's very easy to reach via boat trip. Let's just hope you don't get caught up in any duels ala The Man with the Golden Gun while you're there.
Burj Khalifa as seen in Mission: Impossible – Ghost Protocol (2011)
Where: 1 Sheikh Mohammed bin Rashid Blvd, Dubai UAE
Personal note: I saw Mission: Impossible – Ghost Protocol in IMAX twice when it was released. And both times when Tom Cruise scaled the outside of the Burj Khalifa in Dubai, literally the tallest building in the world, I was a sweating wreck of a woman. My feet melted into jelly. But I was fascinated that the film made me react so viscerally that I had to go back for more. I do want to visit the Burj Khalifa someday, but I'll try to not look down…
Chhatrapati Shivaji Maharaj Terminus as seen in Slumdog Millionaire (2008)
Where: Dhobi Talao, Chhatrapati Shivaji Terminus Area, Fort, Mumbai, Maharashtra 400001, India
It's very possible that India produces more Bollywood films per year than America produces Hollywood films. So there must be hundreds of amazing Bollywood filming locations in India! However, the exterior of the Chhatrapati Shivaji Maharaj train station in Mumbai where Slumdog Millionaire ends is just gorgeous and so ornate, it had to be included.
Famous Movie Locations in Australasia
King's Canyon as seen in The Adventures of Priscilla, Queen of the Desert (1994)
Where: Petermann NT 0872, Australia
One of my favourite queer films, The Adventures of Priscilla, Queen of the Desert follows three drag performers who travel from Sydney to Alice Springs for a show in an old bus named Priscilla. The three protagonists dress in their Gladrags at the end of the film and stand on top of King's Canyon in the Northern Territory. They did consider Uluru or Ayer's Rock for the location, but it's a sacred structure. Their path was hilariously renamed 'Priscilla's Crack' so you can literally follow in their footsteps!
Hobbiton as seen in The Lord of the Rings: The Fellowship of the Ring (2001)
Where: 501 Buckland Road, Matamata 3472, New Zealand
Who wouldn't want to stay for tea at Bilbo Baggins' house in Bag End? The studio set of Hobbiton, which was built for The Lord of the Rings Trilogy, is open to visitors and Hobbits alike. There are so many iconic movie locations from the series around New Zealand, but this is the most accessible to visitors. And honestly, doesn't it look outstanding? So much detail and creativity. Let's just hope you don't spot Gollum or any Black Riders when you visit…
Pine Oak Court as seen in Neighbours (1985-Present)
Where: Vermont South VIC 3133, Australia
I know few people outside of the UK and Australia have heard of the hit soap opera Neighbours. Far fewer think it's good, and even fewer actually watch it. I'm in that latter category, so this entry is purely self-indulgent. I actually have "making a pilgrimage to Ramsay Street", the fictional Neighbours neighbourhood (called Pine Oak Court in Melbourne in real life) on my bucket list. But you can't blame me. Apparently, it's where good neighbours become good friends.
Famous Movie Locations in the USA
Devil's Tower as seen in Close Encounters of the Third Kind (1977)
Where: WY-110, Devils Tower, WY 82714, USA
Before it was a makeshift helicopter pad for otherworldly beings in Spielberg's Close Encounters of the Third Kind, Devil's Tower in Wyoming was the USA's first national monument and a sacred place for indigenous tribes. The shape of this rock formation is striking and super important to the plot of the film. It might not be the easiest shooting location in the USA to visit, but I bet it's one of the most fascinating. Apparently, you can rock climb it! Haha, no thanks. That will happen the day I follow Tom Cruise up the Burj Khalifa.
Route 66 as seen in Easy Rider (1969)
Where: Chicago Illinois to Los Angeles, California USA
Read more: 50 Best American Movies to Inspire a Trip to Every State
Not one of the most famous movie locations that you can easily visit today, but one of the coolest! Easy Rider romanticises the hippie and free love generation. And driving down Route 66 from Chicago to Los Angeles (or vice versa) is a dream for many petrol heads and fans of Americana from this bygone era.
They may have shot the film on the real Route 66, but the old highway looks a lot different today. More direct, larger freeways redirected traffic away from the iconic route. So, many of the motels with neon signs, restaurants with checkered tablecloths and kitschy roadside attractions have sold up shop.
Art Institute of Chicago as seen in Ferris Bueller's Day Off (1986)
Where: 111 S Michigan Ave, Chicago, IL 60603, USA
One day, a ballsy teenager named Ferris Bueller decided to skip school and have an unforgettable day off in his hometown of Chicago. In Ferris Bueller's Day Off, he and his pals steal an expensive car, sing and dance on a parade float and admire some hella expensive and famous art at the Art Institute of Chicago. Kids stuff, you know? It is a really amazing gallery, though. The institute features notable works like American Gothic, Water Lillies and Pablo Picasso self-portraits.
Monument Valley as seen in Forrest Gump (1994)
Where: Indian Route 42, Oljato-Monument Valley, AZ 84536, USA
At least Forrest didn't stop running before he reached Monument Valley in Arizona. At least he actually got to see this crazy beautiful, sacred place before heading home! The sandstone buttes in the Navajo tribal park have been immortalised in cinema time and time again. Before Forrest Gump, there was Stagecoach (1939), Once Upon a Time in the West (1968), National Lampoon's Vacation (1983), Indiana Jones and the Last Crusade (1989) and Back to the Future Part III (1990). And there are just SO many others! It's one of the most famous movie locations in the world.
New York Public Library as seen in Ghostbusters (1984)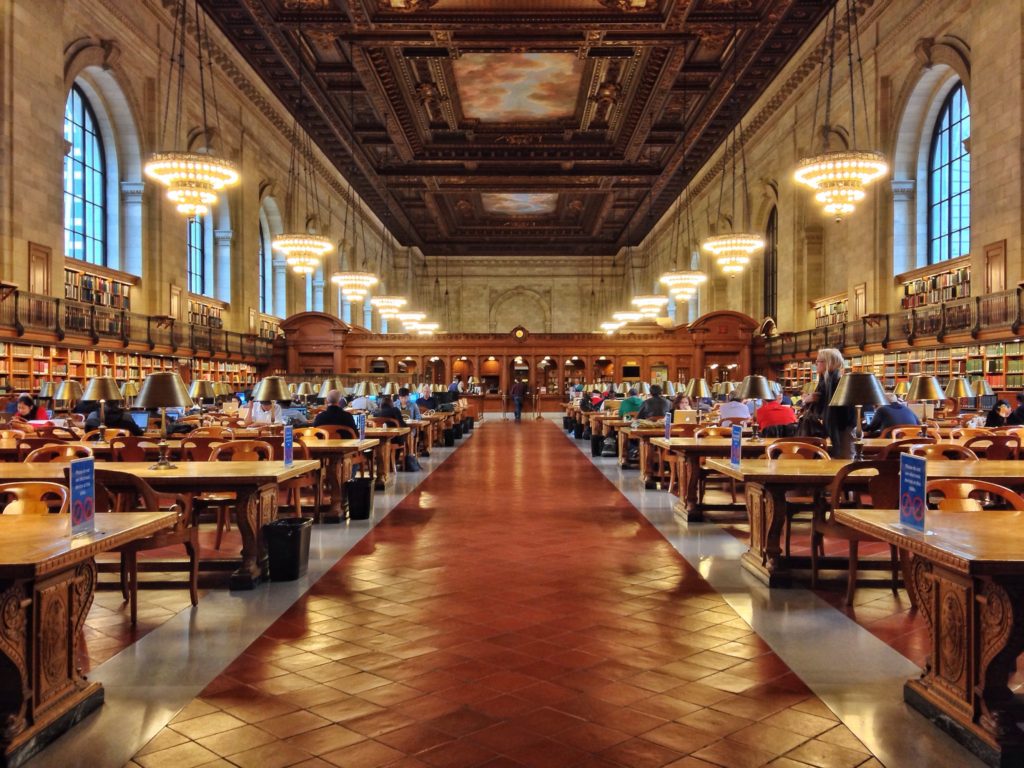 Where: 476 5th Avenue, New York City, NY 10018, USA
You might be thinking, "but the Firehouse is the most famous movie location in Ghostbusters!" And you might be right. But the New York City Public Library is iconic and featured in so many films. Aside from the ghoul-chasing comedy series, Breakfast at Tiffany's (1961), The Thomas Crown Affair (1999), Spider-Man (2002) and Sex And The City: The Movie (2008) are just some of the other films shot here.
Salvation Mountain as seen in Into the Wild (2007)
Where: Beal Road, Calipatria, CA 92233, USA
There's some phenomenal Alaskan scenery in Into The Wild, but this list is all about accessible shooting locations. Salvation Mountain in California might also be a little hard to reach, but it's worth it. Built as a tribute to Jesus and the Christian faith, it's unlike any other expression of love in the world. Some parts of the "mountain" are open for others to express their own love via spray paint.
Martha's Vineyard as seen in Jaws (1975)
Where: Martha's Vineyard, MA 02539-8137, USA
Luckily, the shark in Jaws was animatronic and not based on a true story. Otherwise, no one would want to visit this famous filming location! Standing in for Cape Cod, Martha's Vineyard in Massachusetts is popular with holidaymakers and keen fisherman. It provides the idyllic backdrop for a deadly troublemaker to send ripples of fear throughout the island. But how on earth did they manage to make four Jaws movies? Surely, you'd never get people to go back after the second time.
Griffith Observatory as seen in Rebel Without a Cause (1955)
Where: 2800 East Observatory Road, Los Angeles, CA 90027, USA
So many films are shot in LA every year. Like, so many. Hundreds. It's where all the major studios are situated therefore it's a convenient location to set and shoot movies. But Griffith Observatory might just offer the most Hollywood glamour out of any other LA movie location. James Dean's Rebel Without A Cause shot here, as well as La La Land (2016). It doesn't hurt that it offers a dreamy viewpoint of LA and is a beautiful building.
Philadelphia Museum of Art as seen in Rocky (1976)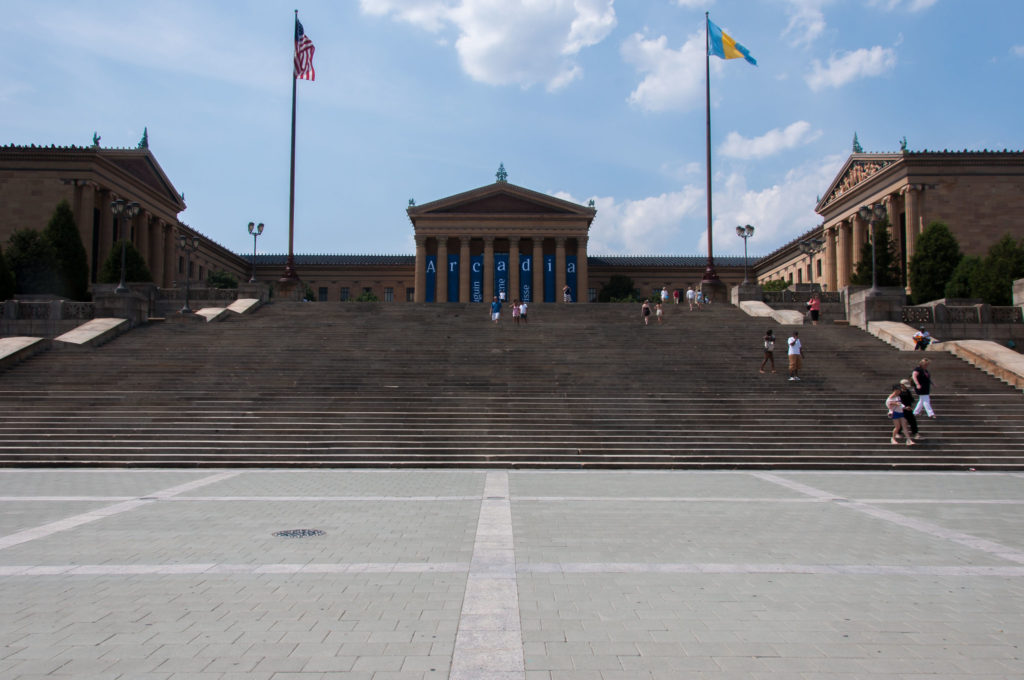 Where: 2600 Benjamin Franklin Parkway, Philadelphia, PA 19130, USA
One of the only famous movie locations where you need to have a base level of fitness to fully reenact the iconic scene. I think a few laps around the block is worth it to run up the famous Rocky steps outside the Philadelphia Museum of Art. Rocky's budget was less than $1 million and it grossed 225 times that amount at the box office. It was a phenomenon at the time, and it's legendary now. Just like Balboa himself.
Edmund Pettus Bridge as seen in Selma (2014)
Where: Selma, AL 36703, USA
With a story as important as Selma's, sometimes the real deal is the only location that is good enough. Reimagining the Selma to Montgomery civil rights march lead by Martin Luther King Jr, the Edmund Pettus Bridge was where the march began. And though the rest of the film shot in Georgia, this is exactly where director Ava DuVernay shot this important scene. An important movie location and an important monument in America's history.
Timberline Lodge as seen in The Shining (1980)
Where: 27500 East Timberline Road, Government Camp, OR 97028, USA
The ski lodge that inspired the original Stephen King novel is in Colorado (where the film is set) but the exterior of the Overlook Hotel in The Shining is actually Timberline Lodge in Oregon. Don't worry, you won't get nightmares if you book a stay here. While the exterior shot in Oregon, director Stanley Kubrick shot the interiors in a London Studio. So cast any thoughts of creepy girls, blood tsunamis and axes from your mind… It's just a cute, wintery lodge! Nothing murdery happening here.
Dead Horse Point State Park as seen in Thelma & Louise (1991)
Where: UT-313, Moab, UT 84532, USA
One of the biggest lies the movies ever told: Thelma and Louise might plunge to their deaths in the Grand Canyon, Arizona in the movie, but in real life, that scene was shot at Dead Horse Point State Park in Utah. But you'd never tell because it's also a jaw-droppingly amazing canyon that's almost 6,000 feet deep spanning thousands of acres. So I think, with everything considered, we can forgive Thelma & Louise for their deception.
Golden Gate Bridge as seen in Vertigo (1958)
Where: San Francisco, CA, USA
Alfred Hitchcock's Vertigo is regularly voted one of the best movies of all time. It's also got some cracking movie locations around the city of San Francisco. The most iconic movie location from the film has to be the Golden Gate Bridge. The brick-red suspension bridge is one of the most famous monuments in the country and really needs to be appreciated in real life to truly understand it's scale and magnificence. Just don't jump into the Bay like Madeleine does in the movie; not a clever idea.
Katz's Delicatessen as seen in When Harry Met Sally (1989)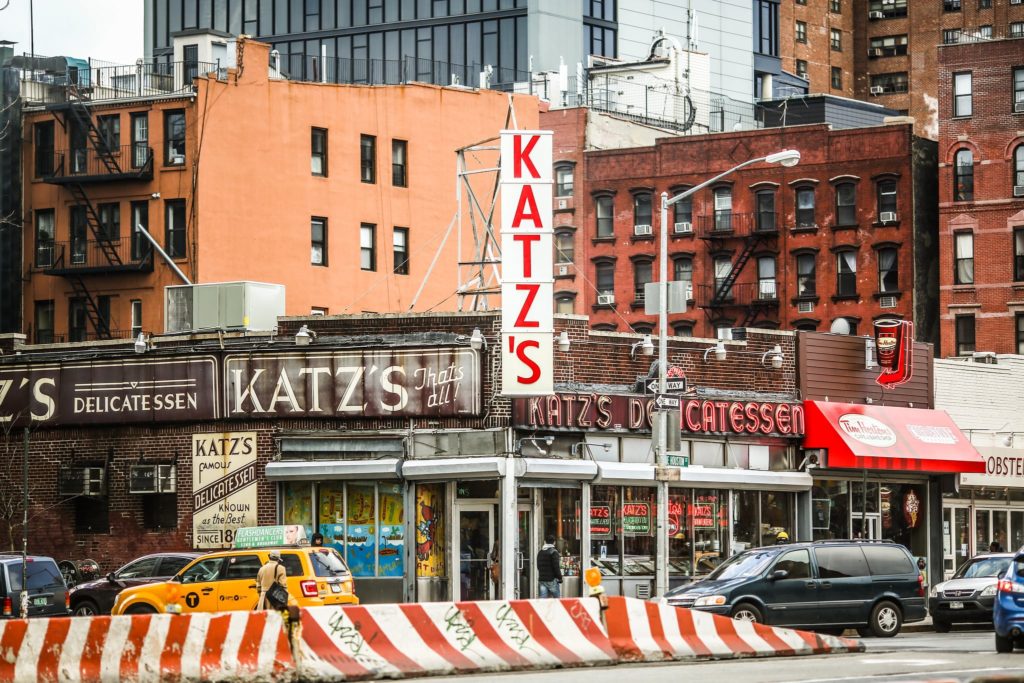 Where: 205 East Houston Street, New York, NY 10002, USA
When Harry Met Sally is one of the best movies of all time! It's basically a perfect film, don't fight me. And Katz's Deli in NYC is one of the most famous movie locations in the USA. Not only can you sit at the table where Sally fakes an orgasm to prove a point (if the restaurant isn't absolutely rammed, which it normally is), but you can also order deli-cious over-stuffed sandwiches too. Gosh, aren't movie locations just the gift that keeps on giving?
Famous Movie Locations in North & South America
Prairie Mountain as seen in Brokeback Mountain (2005)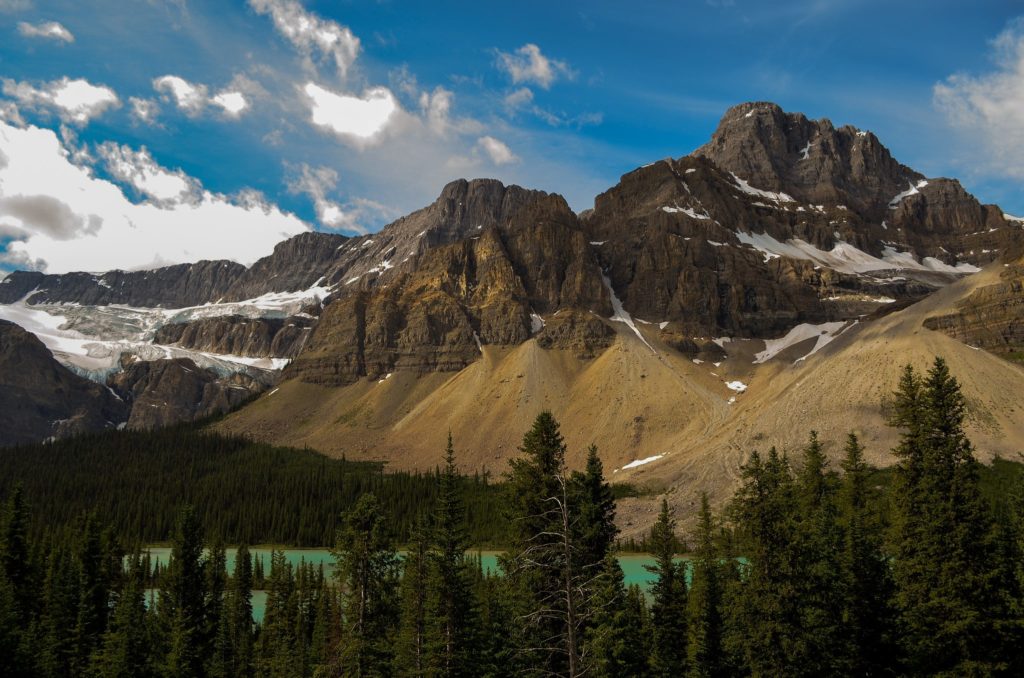 Where: Kananaskis, AB T0L 0K0, Canada
Read more: Brokeback Mountain Filming Locations in Canada & the USA
There are so many films that shoot in Canada as a stand-in for somewhere else. Which is a shame, because Canada has so many beautiful locations! It should be able to claim a few for itself. The Canadian Rockies feature more than a few times as a stand-in for US northern states. In Brokeback Mountain, Prairie Mountain in Alberta acts as a mountain range in Wyoming where Heath Ledger and Jake Gyllenhaal's cowboys develop a romantic relationship.
Iguazu Falls as seen in Indiana Jones and the Crystal Skull (2008)
Where: Misiones Province, Argentina and Paraná, Brazil
Indiana Jones sure gets about a bit. First, he's hitting up Petra, one of the seven man-made wonders of the world, and now he's tackling one of the seven natural wonders of the world in Iguazu Falls in Indiana Jones and the Kingdom of the Crystal Skull. Situated on the border between Argentina and Brazil, it's actually a system of approx. 275 falls that make up the world's largest waterfall.
Machu Picchu as seen in The Motorcycle Diaries (2004)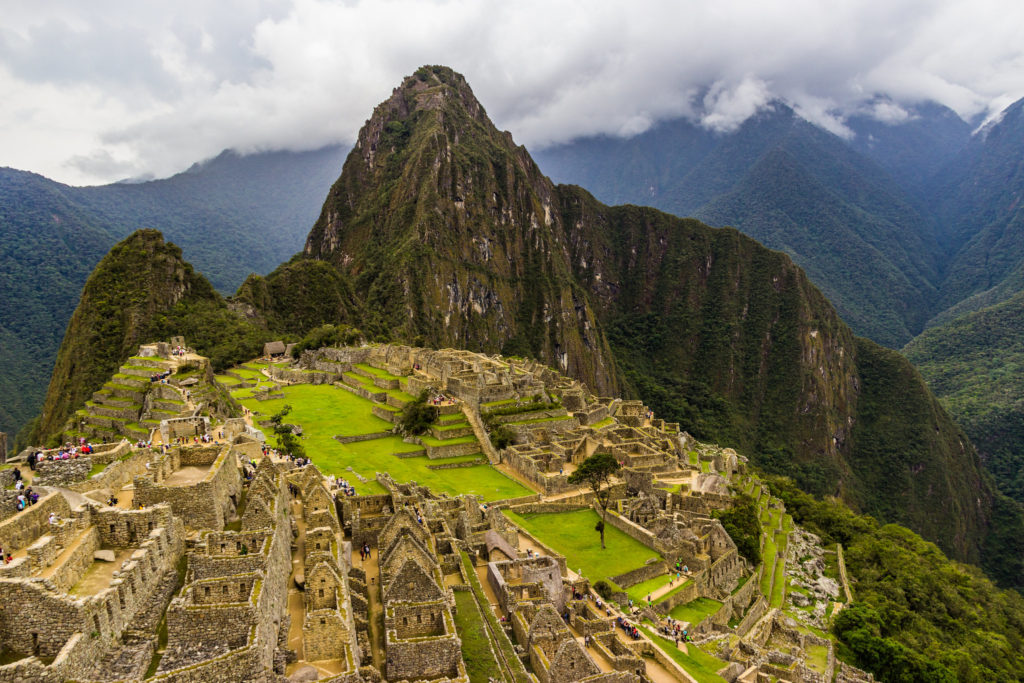 Where: 08680, Peru
If anyone's counting, Machu Picchu in Peru makes this the third and final wonder of the world on this list of famous movie locations. The Incan city is also a UNESCO World Heritage Site. But what isn't at this point? Every item on this list is beautiful, famous, awe-inspiring or all three.
Gael García Bernal's Che Guevara visits Machu Picchu during the biographical film The Motorcycle Diaries. Production really went all out, because so many of the films were true-to-life, including this citadel. The lush green forests, the cloud-topped mountains… The locations really are beautiful, and this is a seminal South American film.
Bahia De Cacaluta Beach as seen in Y Tu Mamá También (2001)
Where: Santa María Huatulco, Oaxaca, Mexico
Speaking of Mexican actor Gael García Bernal… His role as a teenage boy on a road trip with his best friend and an older woman in Y Tu Mamá También was his big, break-out role. The three spend the movie driving out to Boca del Cielo, which means Mouth of Heaven, a fictitious beach. Luckily, the real beach, Bahia De Cacaluta in Oaxaca, Mexico, is just as beautiful as you'd hope.
And those are the most iconic, famous movie locations you can visit around the world! Have you visited any of these movie stop locations or wanted to? Let me know in the comments below!
---
Read next: 50 Best American Movies to Inspire a Trip to Every State
---