Can you fall in love with a stranger in just one day? I'm not sure. I'd be more tempted to say 'yes' if I knew the strangers were compatible. I'd also say 'yes' if I knew they were falling in love surrounded by utterly gorgeous places like the Before Sunrise locations in Vienna.
Before Sunrise (1995) is the first in Richard Linklater's acclaimed travel romance trilogy. It stars Ethan Hawke and Julie Delpy as American Jesse and French Céline, respectively.
They are 20-somethings who meet on a train travelling from Budapest to Paris and decide to get off in Vienna and spend the day together. As they walk around the Austrian capital, step by step, they fall a little bit more in love with each other.
It's my favourite film series, no question. There's a reason Before Sunrise has a 100% Rotten Tomatoes rating. While I might prefer the follow-up Before Sunset (2004) set in Paris and the last film Before Midnight (2013) set in Greece is also incredible, I love them all.
On my trip to Vienna in September 2022, I embarked on my own Before Sunrise Vienna tour and visited every single Before Sunrise location. Sadly, I didn't have my own Jesse or Céline to join me but I enjoyed my solo walking tour of the Before Sunrise filming locations all the same.
I've listed every single Before Sunrise Vienna location and also created a map. Let's get to know each other as we stroll through Vienna, shall we?
Where Was Before Sunrise Filmed?
Before Sunrise Locations in Vienna, Austria
1. Westbahnhof Station
Before Sunrise begins with a 20-minute sequence on a train where Jesse and Céline meet. She's reading Madame Edwarda/Le Mort/Histoire de l'Oeil by Georges Bataille and he's reading All I Need is Love by Klaus Kinski.
They disembark in Vienna, which in this case is at Westbahnhof Station on Platform 7.
Nowadays, this train station doesn't serve international train routes so they would alight at Hauptbahnhof Station. Unfortunately, Westbahnhof Station underwent a refurbishment in 2008. Today, the station looks very different to how it did in Jesse and Céline's era.
Céline and Jesse return to this station the next day (after sunrise, of course) where they part ways and make their ill-fated pact.
2. Zollamtssteg Bridge
Immediately after arriving, we're treated to one of the best Before Sunrise Vienna locations! Jesse and Céline leave the station and walk over this bridge, the Zollamtssteg. It's a green, steel-arch footbridge which is about a one-hour walk from Westbahnhof Station.
This is where they meet the two theatre geeks and tell them they can't watch their German play. It's beautiful and worth the walk from the city centre.
3. Schottentor Tram Station + Tram Journey Sightings
Next, Jesse and Céline hop on a tram. Considering we can't really see which tram station they head to and that tram routes have changed considerably in Vienna since 1995, I had to make some educated guesses!
Because you can see Votivkirche Church almost immediately after they get on the tram, they probably hopped on at Schottentor Tram Station to ride the N.43 tram. During their journey, you can also see the Palais Epstein, Burgtheater, and the University of Vienna Building.
To reproduce as much of this journey as possible, take the D, N.1, N.71 trams from the Ring/Volkstheater Tram Station and travel for four stops.
After strolling through Maria-Theresien-Platz, the young lovers return to this tram station to visit the cemetery. During this tram ride, you can see the Maria-Theresien-Denkmal Statue through the windows.
4. Börse Tram Station
The pair arrive at Börse Tram Station just in front of the old Stock Exchange building.
"Isn't everything we do in life a way to be loved a little more?" – Céline
5. Teuchtler Schallplattenhandlung und Antiquarität
Yes, I know, the Before Sunrise record store is absolutely nowhere near the Börse Tram Station. If you know Vienna well, you'll just have to bite your tongue while reading this guide, I'm afraid.
The Before Sunrise record store is Teuchtler Schallplattenhandlung und Antiquarität. It is still there today and the exterior looks exactly the same.
Unfortunately, I didn't realise the store was open for only three hours on Saturdays so I couldn't go inside. I'm sure there will have been some updates in the last 30 years though.
6. Maria-Theresien-Platz
Céline and Jesse are doing a great job ticking off all the top things to do in Vienna from their tourist guides! They take a stroll through Maria-Theresien-Platz which is the square at the heart of Vienna's MuseumsQuartier.
You can see both the Kunsthistoriches Fine Art Museum on one side and the Naturhistorisches Museum on the other. Specifically, you can see the statues of Eros and Psyche behind Jesse as they walk past the art museum.
The pair also pay close attention to one of the statues in the square, the Triton and Nereid Sculpture Fountain. Sadly, this fountain was being repaired during my visit so I couldn't take any good photographs!
7. Friedhof der Namenlosen
Céline wants to take Jesse somewhere she visited as a kid. Does she take him somewhere super romantic or at least not creepy? No, it's a cemetery.
In English, Friedhof der Namenlosen translates to 'Cemetery of the Nameless'. It's a small cemetery with the graves of unknown people who washed up on the banks of the Danube. No one has been buried there for over 80 years and Céline pauses at a grave with the name 'Elizabeth'.
Before Sunrise suggests that this is a simple tram ride away from Vienna's historic centre.
Oh no, it's not.
I took the Orange U3 U-Bahn underground train from Stephansplatz in Vienna's city centre to Simmering which is the very last stop. From there, I hopped on the 76A/B bus to Albern which, again, was the last stop on the route.
Then, I walked around 15 minutes down a quiet path to reach the cemetery. Because I was determined to visit every single Before Sunrise location (and I'm pleased I did!) the four-hour round trip was worth it for me.
8. Prater Amusement Park
Probably keen to liven up the mood after killing it at the cemetery (bad pun, sorry), the pair head to Prater Amusement Park. It is one of the oldest amusement parks in the world and the Riesenrad Ferris Wheel here is the oldest Ferris Wheel in the world, having opened in 1897.
This is absolutely one of the best Before Sunrise locations. Not only is the amusement park an iconic Vienna landmark, but it also features in The Third Man (1949) which is another famous Vienna-set film.
Jesse and Céline finally share their first kiss on the Ferris wheel and play the 'Punch Belly' strength tester game.
---
COMING SOON: The Third Man Vienna Filming Locations + Museum
---
9. Kleines Café
Mental note to myself, "Stop saying every location is the best filming location, Becca. You're going to say that about all of them."
But Kleines Café is a great one! The young lovers stop here for a couple of beers and it's where they meet the fortune teller.
Miraculously, the café is still open and it looks exactly the same. The owner of the café, Hannes Pöschl, played the man on the train at the beginning of the film arguing with his wife.
You can also see the Moses Fountain and the monks walking past the Franciscan Church which is in the same square.
Top Tip: Bring cash! They currently don't take credit cards at this café.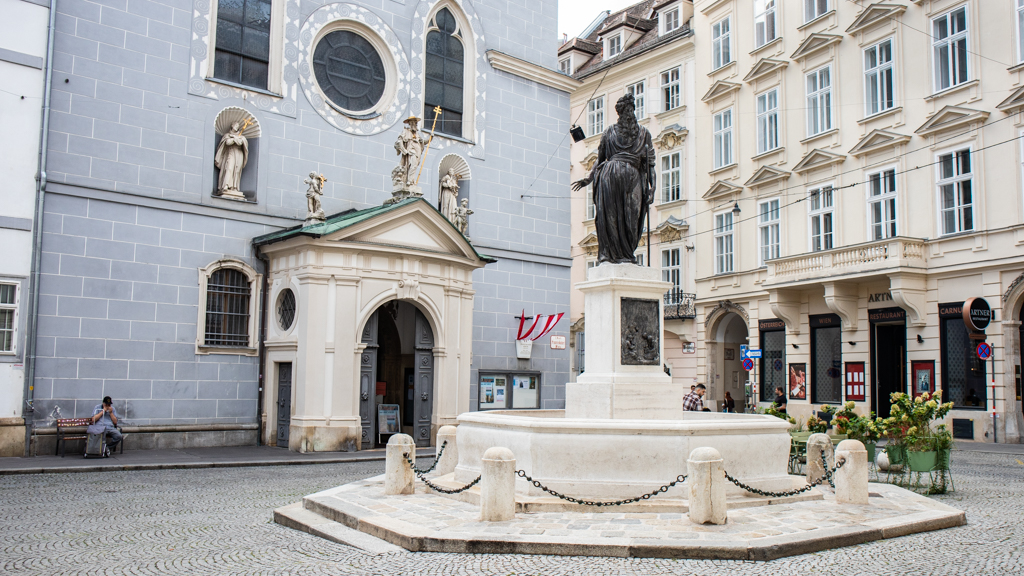 10. Street Corner with Kunst Haus Wien Exhibition Poster – Where Is It?!
Yes, I claimed that I knew where every single Before Sunrise filming location is in Vienna. There is one that I'm not 100% sure about. It is the street corner where they look at a poster for an exhibition opening at the Kunst Haus Wien Museum on an old kiosk.
I could make an educated guess that it's somewhere near our next Before Sunrise Vienna location but I don't know for sure. If you do, please leave a comment at the end of this post!
---
Read next: Before Sunset Filming Locations in Paris, France
---
11. Maria am Gestade
They walk up the steep steps to the Maria am Gestade Church. However, this church only stands in for the exterior, the interiors are from an entirely different church. This Catholic church dates back to 1414 and is one of the oldest churches in the city.
12. Mariahilfer Kirche
Yes, the interior church scenes are actually inside Mariahilfer Kirche just off one of Vienna's shopping streets. Whereas Maria am Gestade is a Gothic church, this one is Baroque and was consecrated in 1730.
13. Obere Donaustraße, 26 on the Donaukanal
Many movie fans think Linklater shot this scene next to the Danube River, but he didn't. The Danube is actually a bit of a trek outside the city centre.
Jesse and Céline take a romantic stroll along the Donaukanal and stop outside the Otto Wagner Schützenhaus restaurant to talk to the poet on the steps. The address for this Before Sunrise film location is Obere Donaustraße, 26. The path is also called Friedl-Dicker-Brandeis-Promenade.
14. Arena Cafe
Seeking a little more excitement, Jesse and Céline head to the graffiti-covered club/music venue Arena Café. It's a former slaughterhouse that became an underground club in the 1970s and it's still operating today.
They wander into this grungy establishment and drink local Viennese Ottakringer beer and play pinball. Director Richard Linklater also makes a cameo appearance in this scene!
15. Mölker Steig
Bear with me for the next group of Before Sunrise film locations because they're literally just walking through a few streets. First, Céline and Jesse walk along a narrow, cobblestone street called Mölker Steig. They begin near the steps and walk towards Schreyvogelgasse.
They even walk passed Schreyvogelgasse, 8 which is a very iconic location in The Third Man!
16. Spittelberg Passage
Cut to Spittelberg Passage which is supposedly right off Mölker Steig (it's not). They pass a belly dancer on a step here which makes sense because the Viennese are famous for their waltzes and belly dances (they're not).
Jesse and Céline walk back down this passage a few minutes later.
17. Spittelberggasse, 18
If you wanted to know the exact address of the belly dancer's dancing, it's Spittelberggasse, 18. I found the Spittelberg neighbourhood in Vienna had a really nice vibe with lots of cool bars and restaurants.
18. Alley Between Gutenberggasse and Kirchberggasse
The pair walk back down Spittelberg Passage, and then they cross Gutenberggasse and walk down an unnamed alley between N. 12 and 14. This alley leads onto Kirchberggasse and they stop and they have a conversation here for a short while.
19. Café Sperl
You know what I'm going to say, don't you? Yes, this is another of my favourite Before Sunrise Vienna locations.
Café Sperl is a quintessential Viennese coffeehouse dating back to 1880. It looks just as it did 30 years ago and I'm sure it looked the same 50 years ago!
I really enjoyed eating apple strudel and drinking Viennese melange in this place. If you visit, please know that the waiters are rude to everyone, not just you.
Céline and Jesse pretend to have phone conversations with their friends at this coffeehouse.
20. Albertina Palace and Art Museum
After perking themselves up with coffee, the young lovers continue their walk around Vienna by hanging out in front of the Albertina. You'll find this area under Albrechtsbrunnen on Google Maps.
There are clear views of the Vienna State Opera House from where they're hanging out.
---
COMING SOON: Before Sunset Filming Locations in Greece
---
21. Boat on the Donaukanal
Almost 30 years after the release of Before Sunrise and you can visit just about every single filming location like it was yesterday. Unfortunately, this is not one of them.
Céline and Jesse go back to Donaukanal and seemingly go for a drink in a café-restaurant on a boat. Whatever this boat was called, it's not there anymore.
22. Roxy at Faulmanngasse 2
It's getting late and the young pair are running low on funds. While Céline sneaks a couple of glasses, Jesse convinces the bartender at a bar called the Roxy to give him a bottle of wine. Miraculously, it works!
Even more miraculously, the Roxy is still going strong as a hip-hop club.
23. Schwarzenberg-Garten
They take their free bottle of booze to a secluded park where it's heavily implied (and then confirmed in the follow-up film Before Sunset) that Céline and Jesse have sex.
They're not actually in a public park but Schwarzenberg-Garten, the gardens outside of Palais Schwarzenberg.
I tried to visit these gardens on my way to the Belvedere Palaces because they're next door to each other. Unfortunately, they were closed because of a ticketed theatre event in the gardens.
I'm unsure if they would be open to the public at other times, however, because I think it's private property.
24. Preßgasse, 3
The following day, the pair walk hand-in-hand (Céline sans the t-shirt she was wearing under her dress) along Preßgasse.
They walk passed N.3 and peer into the bottom window at N.4 where they see a man playing the harpsichord through the wrought iron vent cover and start dancing to his melodies.
25. Statue von Erzherzog Albrecht
Before heading back to Westbahnhof Station, Jesse runs his fingers through Céline's hair as they sit underneath the Statue von Erzherzog Albrecht back outside of the Albertina Museum.
They have to face parting ways at the train station after spending only one night together. But that's okay because they'll see each other in six months, right?
…Right?
Before Sunrise Locations in Vienna: That's a Wrap!
And those are all the top Before Sunrise locations in Vienna, Austria. It's difficult to believe that so many filming locations are still exactly as they were 30 years ago when the film was released.
Have you watched the film or planning to visit the locations in Vienna? Let me know in the comments below!
---
Read next:
Before Sunset Filming Locations in Paris, France
Before Midnight Filming Locations in Greece
The Third Man Vienna Filming Locations + Museum