Jane Austen's Pride & Prejudice. It is one of the most beloved novels adapted into a stunning period feature with iconic stately homes like Pemberley and Rosings brought to life in the Pride and Prejudice filming locations.
Entirely shot on location, Pride and Prejudice (2005) stars Keira Knightley as Elizabeth Bennet, an elder of five sisters who feels pressure to marry well despite wanting to wait for true love. Enter Matthew MacFadyen as Fitzwilliam Darcy, a handsome, upper-class wealthy gentleman who captures Elizabeth's attention. Though Mr Darcy looks good on paper, does he offer Elizabeth everything she needs in life and love?
The 1995 BBC TV show is a well-loved adaptation, but this version is amazing too. Director Joe Wright utilizes no less than five stately homes across five counties including Basildon Park in Berkshire, Groombridge Place in Kent and the famous house from Pride and Prejudice, Derbyshire's Chatsworth House. So, let's see exactly where all the Pride and Prejudice (2005) locations around England are!
Where Was Pride and Prejudice Filmed?
Pride and Prejudice Filming Locations in England
1. Groombridge Place, Kent
Let's kick off the filming locations for Pride and Prejudice with Groombridge Place in Kent. This relatively humble abode (humble in relation to Buckingham Palace, maybe) stands in for Longbourn. This is the Bennet residence where Mr and Mrs Bennet live with their young daughters: Jane, Elizabeth, Mary, Kitty and Lydia.
Just a simple home for seven with chickens, a huge back garden and a fricking moat.
The dance that introduces us to Mr Darcy is an old warehouse in which the production team dressed up. It is the only "set" in the entire film and the rest of the places in Pride and Prejudice are 100% real.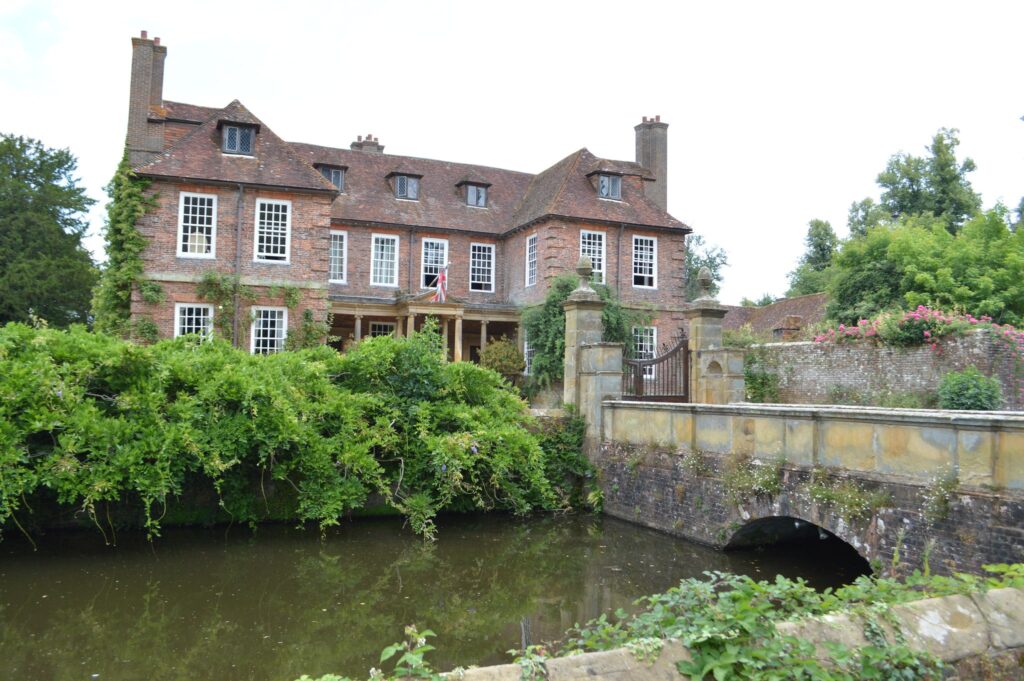 2. Basildon Park, Berkshire
The next Pride and Prejudice filming location is Basildon Park in Berkshire standing in for Mr Bingley's temporary home Netherfield Hall where he is hosting Mr Darcy and his sister. Elizabeth walks to see her sister Jane who took ill by riding horseback in the rain to have dinner with My Bingley's sister.
I absolutely love the ball scene in Netherfield Hall where Mr Darcy and Elizabeth dance for the first time. Their conversation is hypnotic. Basildon Park's interiors have a summery exoticism and a Far East touch with light blue cherry blossom wallpaper and dramatic velvety bed curtains. And the exterior? Those Roman columns speak for themselves.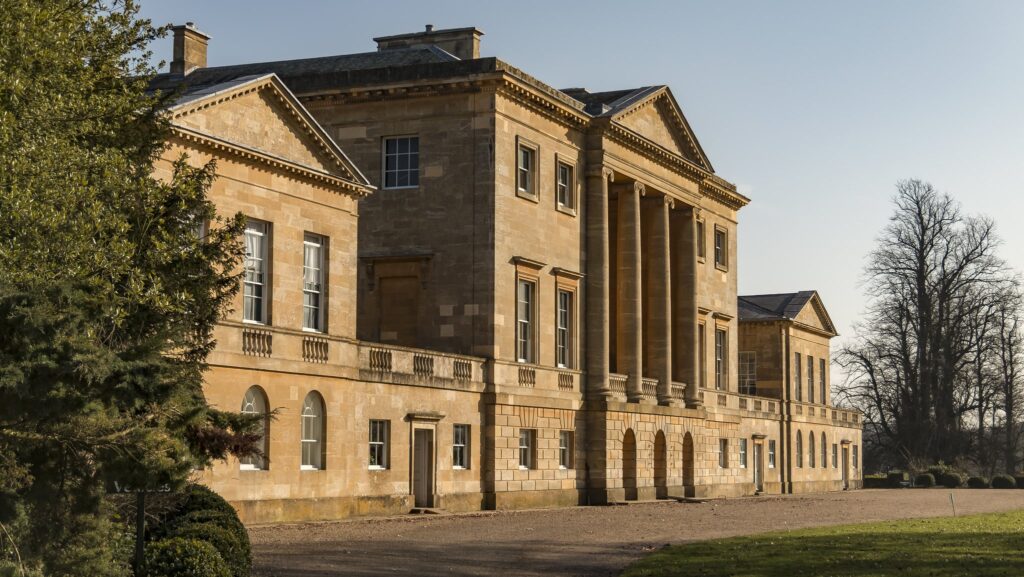 3. St George's Square, Stamford, Lincolnshire
Lacock village in Wiltshire played the role of Meryton village in the 1995 BBC adaptation of Pride & Prejudice. But in the 2005 version, St George's Square in Stamford, Lincolnshire stood in. Meryton makes an appearance when the soldiers parade through the village streets and the Bennet girls meet the dubious Mr Wickham.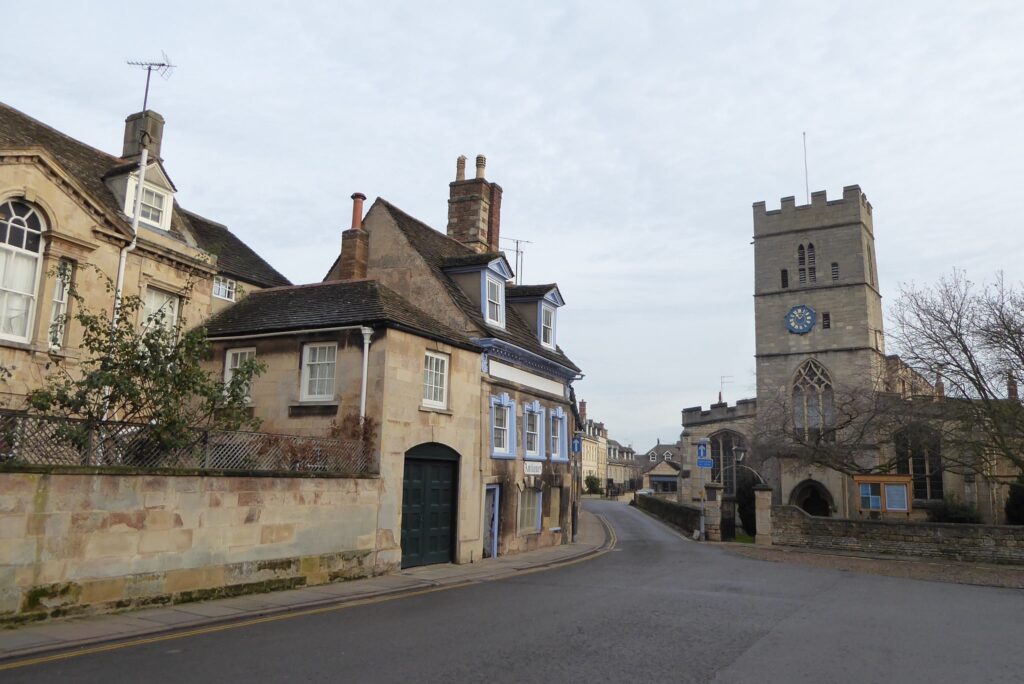 4. Montagu's Hospital, Church Lane, Weekley, Northamptonshire
A few months after Elizabeth rejects Mr Collins's proposal and her friend Charlotte becomes the new Mrs Collins, she visits the couple at their vicarage called Hunsford Parsonage on the land of Lady Catherine de Bourgh (the incomparable Dame Judy Dench). Their home is a Grade II listed building formerly known as Montagu's Hospital in Weekley, Northamptonshire.
5. St Mary the Virgin Church, Weekley, Northamptonshire
Nextdoor to Hunsford Parsonage is the church where Mr Collins is the clergyman of the parish. As you might expect of any vicarage! The church is right next door in real life as it's St Mary the Virgin Church in Weekley, Northamptonshire.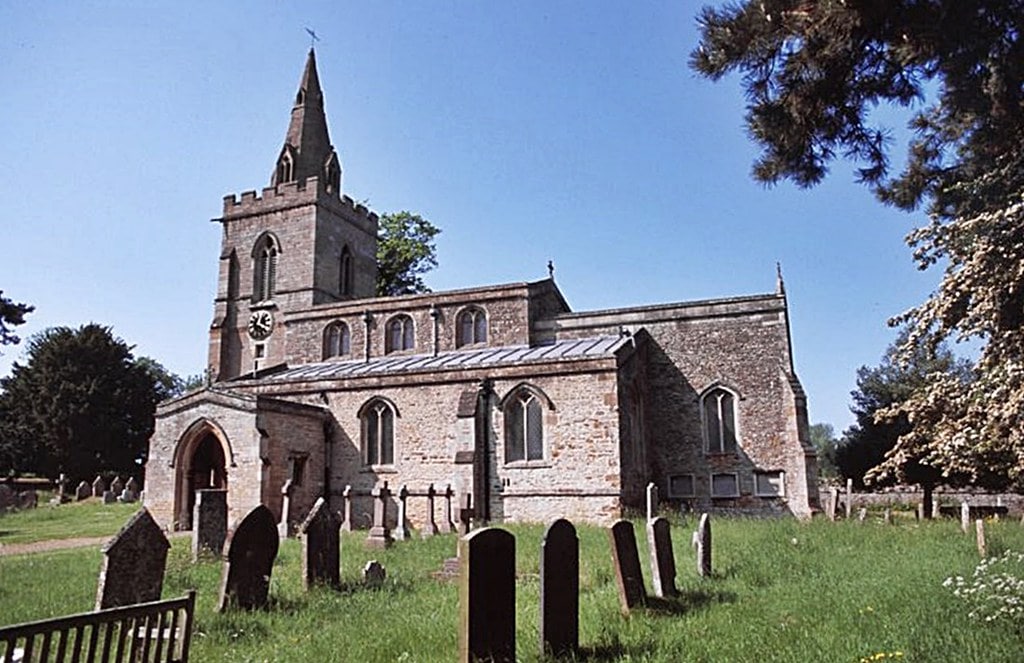 6. Burghley House, Stamford, Lincolnshire
Shortly after Elizabeth arrives, Lady Catherine invites her and the Collins' over to dinner at one of the most opulent and extravagant Pride and Prejudice film locations. It must have at least 587 bedrooms. Her home is Rosings Park, which is played by Burghley House in Stamford, Lincolnshire.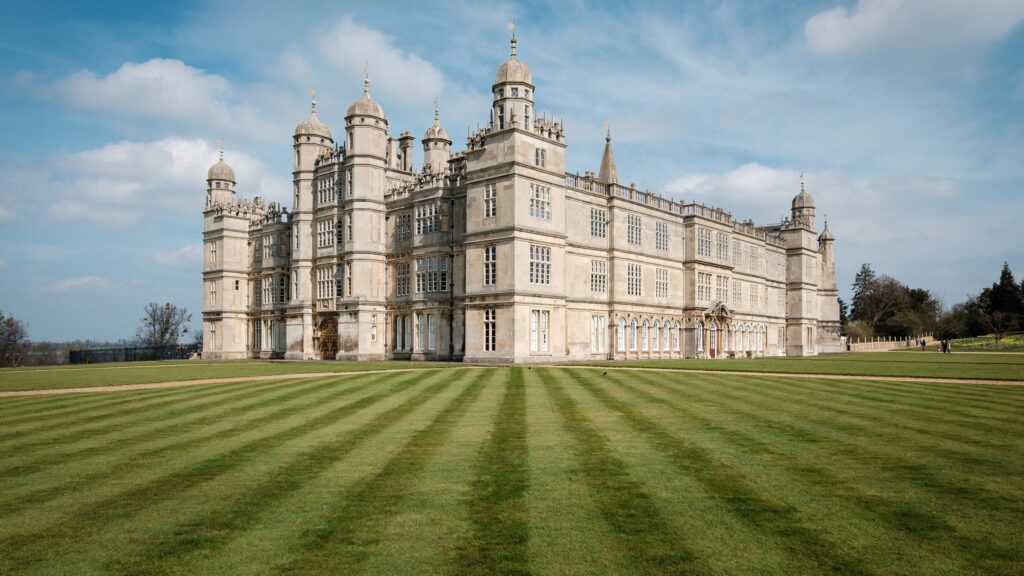 7. Temple of Apollo and Palladian Bridge, Stourhead Garden, Wiltshire
After learning yet another unpleasant fact about Mr Darcy at church, Elizabeth runs through the grounds at Rosings in the rain and across a bridge until she takes shelter in a greek temple. Mr Darcy follows Elizabeth and it is here he unsuccessfully proposes to Elizabeth. I know she says no, but what a romantic setting, ey?
And this folly is nowhere Stamford, Lincolnshire where Rosings Park is situated. It is the Temple of Apollo in Stourhead Garden, Wiltshire. The bridge Elizabeth crosses is the Palladian Bridge.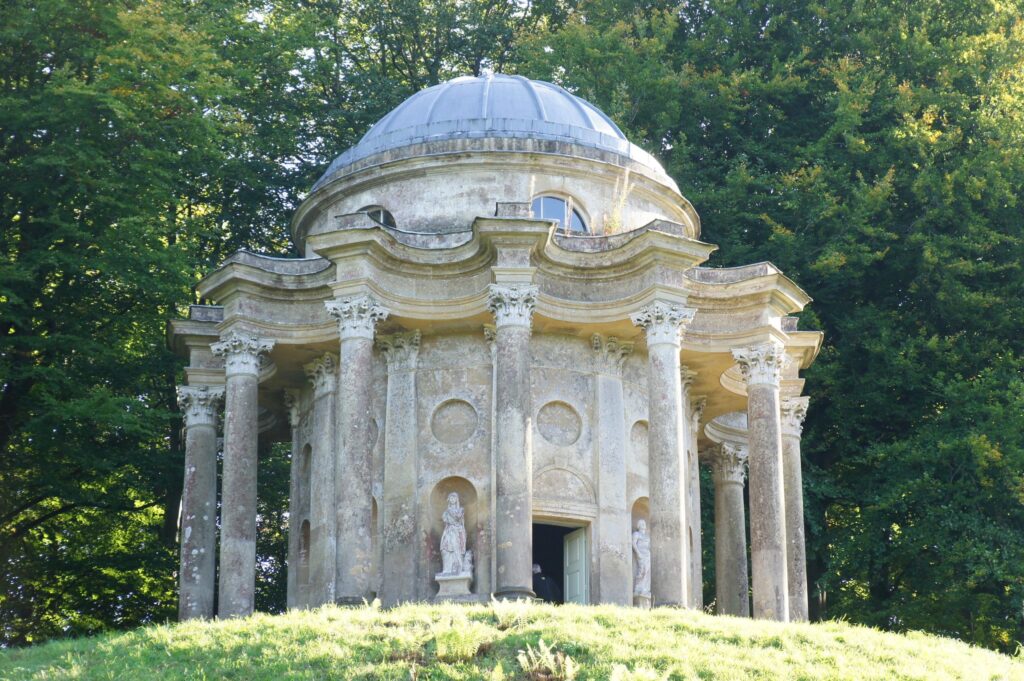 8. Stanage Edge, Hathersage Moor, Derbyshire
Elizabeth joins her aunt and uncle, the Gardiners, on a trip to the Peak District. It's here we have that gorgeous sweeping shot of Elizabeth standing on the edge of the moor as her skirt billows in the breeze. This location is called Stanage Edge in Hathersage Moor, Derbyshire. This is possibly my favourite out of all the wonderful Pride and Prejudice movie locations. It's just so cinematic.
---
Read next: Sightseers Film Locations in England
---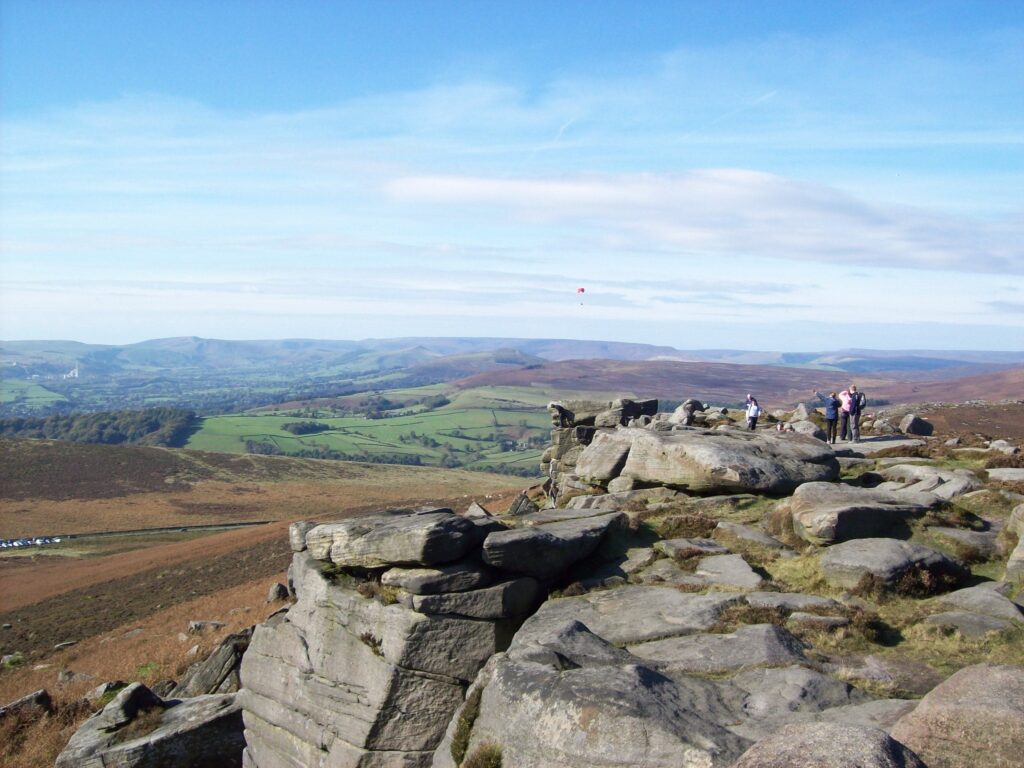 9. Chatsworth House, Derbyshire
Finally, across the waters, we spy the Pride and Prejudice house: Pemberley. This is the home of our dear Mr Darcy and his stacks of money. Chatsworth House is Pride and Prejudice's most iconic stately home and the authenticity factor is turned up to 11 because Pemberley is in Derbyshire, as is Chatsworth House.
Pemberley's exterior, it's entrance hall staircase and sculpture gallery are all here. Though logic tells me the statue of Matthew Macfadyen was added for the film. The Duke and Duchess of Devonshire currently reside here (with their impressive art collection and gardens) and they are So. Damn. Lucky.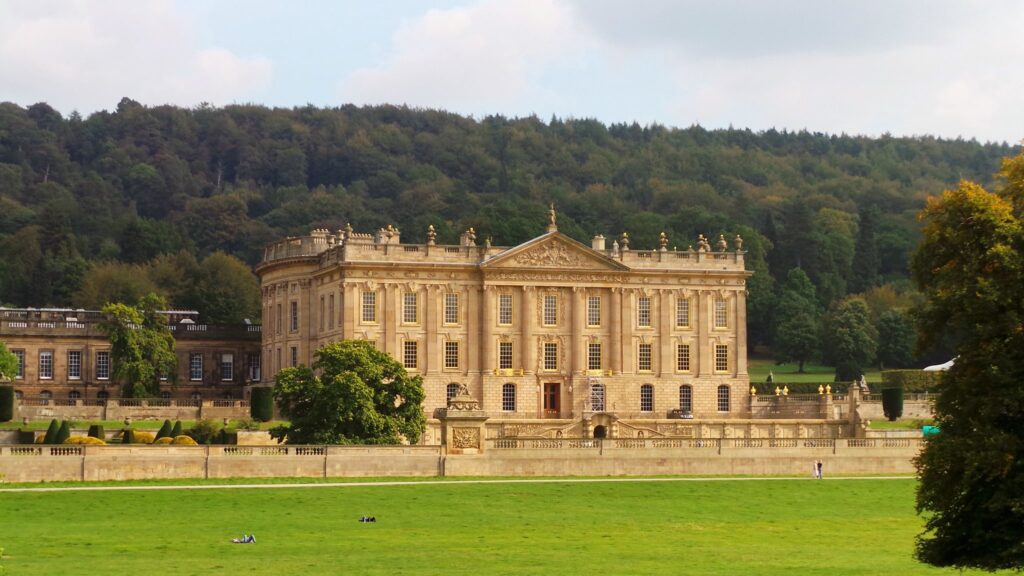 10. Wilton House, Salisbury, Wiltshire
Pemberley's drawing-room, however, is not at Chatsworth House. I don't know why their drawing-room was so unagreeable. Maybe it was just too modern. Wilton House in Salisbury, Wiltshire's drawing-room is the Pride and Prejudice filming location for these scenes, like when Elizabeth spies Georgiana playing the piano.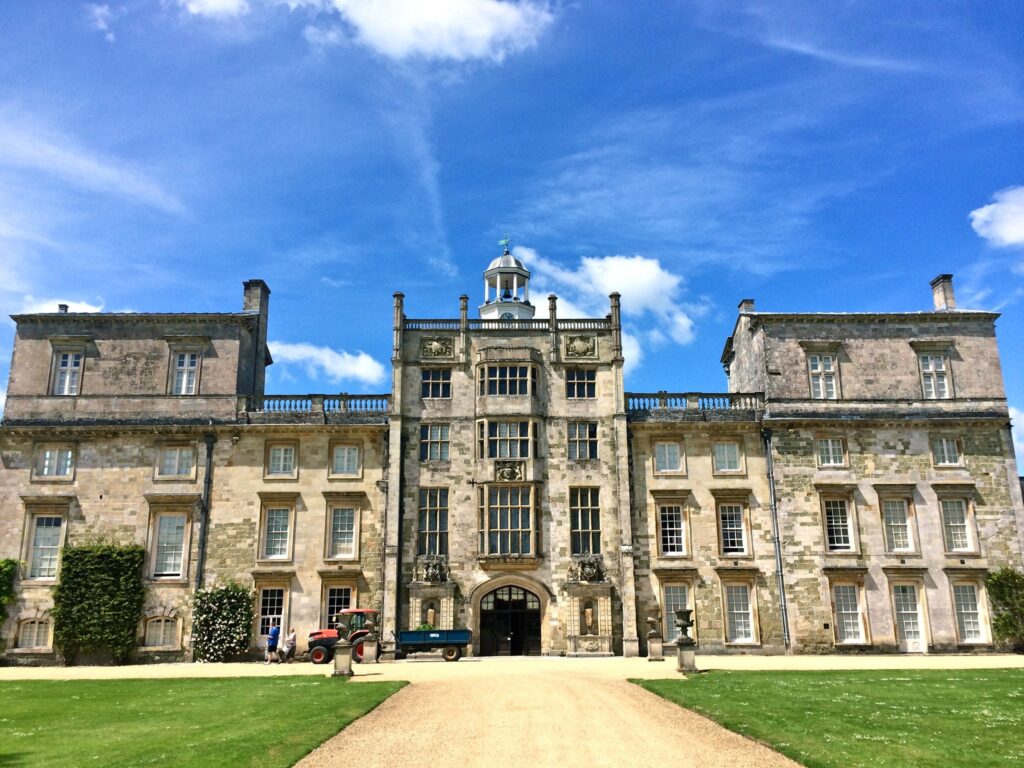 11. Haddon Hall, Bakewell, Derbyshire
While holidaying in Derbyshire, Elizabeth and her aunt and uncle stay at an inn called The Rose and Crown in a place called Lambton. The dining room in Haddon Hall, Derbyshire stands in as the inn and this stately home is no stranger to the silver screen. It's a prominent filming location in both The Princess Bride (1987) and Mary Queen of Scots (2018).
---
Read next: The Princess Bride Filming Locations in England & Ireland
---
And those are all the Pride and Prejudice filming locations in England! Have you watched the movie or visited any of the filming locations? Let me know in the comments below!
---
Read next: The Favourite Filming Locations in England
---