For some, Eurovision might just be another eye-roll-inducing Will Ferrell comedy movie to not make a lot of fuss over. But to me, it offered wholesome, joyous respite from the dark reality of the Covid-19 pandemic. And the Eurovision filming locations in both Scotland and Iceland helped heal the pain of not being able to travel much that year.
Eurovision Song Contest: The Story of Fire Saga (2020) is a Netflix original film about the uber-famous, multinational music competition. Will Ferrell and Rachel McAdams play childhood friends-turned-bandmates from Húsavík in Iceland. They long to compete in the Eurovision Song Contest. And thanks to a few freak incidents, their dream comes true and they head off to the Eurovision Song Contest, hosted in Edinburgh, Scotland.
There's a lot to love about this camp comedy. The "traditional" Nordic outfits, the catchy songs, Dan Steven's Russian competitor is a particular highlight and, of course, the beautiful Eurovision locations. So, let's check out all the Eurovision filming locations in Iceland and Scotland (and a couple of locations outside those countries, too!)
Eurovision Song Contest: The Story of Fire Saga Filming Locations
Where was the Eurovision Song Contest Movie Filmed?
Eurovision Filming Locations in Iceland
1. Héðinsbraut 1, Húsavík
We kick off the Eurovision filming locations in Húsavík, Iceland! Yes, Eurovision actually shot in the remote Icelandic town where the film is set. Húsavík is situated on Iceland's north coast and is known for being a whale-watching hotspot. It's not difficult to visit if you're driving along Iceland's Ring Road, which I definitely hope to do at some point.
The movie opens with a flashback to the 1974 Eurovision Song Contest where ABBA knocked the house down with their song 'Waterloo.' Lars (played by Will Ferrell) and Sigrit (played by Rachel McAdams) watch the broadcast at Lars' home with their families. Lars' house is at Héðinsbraut 1 in Húsavík, not far from the harbour.
2. Valahnúkamöl Black Beach
Lars and Sigrit perform their song 'Volcano Man' on a black beach/cliff in Iceland. This scene is part music video, part dream sequence because, in reality, they're just practising in Lars' basement. There are a few gorgeous shots of Iceland's very Instagrammable landscapes in this music video, but they start off on Valahnúkamöl beach near Keflavík International Airport.
3. Skógafoss Waterfall
The next Eurovision location in this music video is the pair skipping in front of Skógafoss. This one of the most popular waterfalls in Iceland. So it's no wonder that any of the movies filmed in Iceland would want to include it in their film, especially an Iceland-centric film like Eurovision.
4. Kaldbakur 640, Húsavík
Unfortunately, there is no street address on Google Maps for Sigrit's home on a hill overlooking Húsavík. HOWEVER, I can see the exact cottage on Google Street View! It definitely exists! And it's down an unpaved road off Norðausturvegur near some holiday lets on Kaldbakur. Also near a weird tree sculpture by the cliff edge, of all things.
5. Húsavík Cemetary, Sólbrekka 14, Húsavík
Lars and his father Erick (played by silver-bearded Pierce Brosnan) visit Lars' mother's grave at Húsavík Cemetary.
6. Húsavík Port, Hafnarstétt, Húsavík
Lars works as a parking attendant next to Húsavík Port and Sigrit brings him takeaway coffee. This is the scene where two whales leap from the shallow waters in a synchronised spin, as I'm sure they do all the time in Húsavík.
7. Húsavík Academic Center, Garðarsbraut 2, Húsavík
The next Eurovision filming location is Húsavík Academic Center, which stands in as the exterior for (what seems to be) the only pub in Húsavík, Captain's Galley. This is where Fire Saga plays regular gigs which includes their most popular song, Ja Ja Ding Dong. Want to know where Eurovision filmed the interiors for Captain's Galley? You'll have to keep reading!
8. University of Iceland, Sæmundargata 2, 101, Reykjavík
One of the few main Eurovision filming locations outside of Húsavík in Iceland is the Icelandic Public Television exteriors in Iceland's capital city of Reykjavík. In real life, this is the main building at the University of Iceland in Reykjavík.
We do also get a lovely, albeit brief, aerial shot of Reykjavík slightly later in the film when Sigrit and Lars travel to the capital city. The iconic Hallgrímskirkja church is very easy to spot in the skyline.
9. Húsavík Wooden Church, Garðarsbraut 11, Húsavík
After Lars finds out the good news, that Iceland has picked Fire Saga as one of the finalists to represent the country in the Eurovision Song Contest, he rushes to tell, well, everyone the news by ringing the local church bell.
This scene is set at the Húsavík Wooden Lutheran Church. And what a bloody beautiful church it is, too! I love the burgundy trim.
10. Goðafoss Waterfall
On Lars and Sigrit's bus ride to Reykjavík, they travel over the Goðafoss bridge.
Eurovision Filming Locations in Scotland
11. Newhaven Lighthouse, Edinburgh
Though Fire Saga haven't even travelled to Edinburgh yet in the film, the Scotland locations are already on screen. After a terrible performance in Reykjavík, Sigrit consoles Lars who is crying by a lighthouse on a harbour. They're watching the party boat with all of the other Icelandic Eurovision hopefuls across the water. But this harbour isn't in Reykjavík, it's Newhaven Harbour in Edinburgh.
12. Victoria Street, Edinburgh
After Lars and Sigrit fly into Scotland's capital city, they explore some of the tourist landmarks. Some of the next few Eurovision Edinburgh locations will be from this establishing montage.
The first place they visit (well, drive through) on the way to their hotel is Victoria Street. It's one of my favourite streets in Edinburgh and has featured in other Edinburgh-set films like Filth (2013). It's also rumoured to be an inspiration for Diagon Alley in the Harry Potter books.
13. Edinburgh Castle, Edinburgh
Edinburgh Castle briefly makes an appearance on Lars and Sigrit's drive. It's not really possible to see it that well from Victoria Street but, you know, it's the movies so we'll let them off.
Side note: I love that they chose to set the Eurovision Song Contest in a UK city. Last year's contest winner gets to host the following year, which means the UK would have needed to win in order to host. Which will, lol, never ever happen again.
14. 2 Albany Street, Edinburgh
Lars and Sigrit's budget accommodation during the Eurovision Song Contest, the Sandstone Hotel, isn't an actual hotel. In reality, it's an Architects firm located at 2 Albany Street in Edinburgh's New Town dressed up as a hotel. So you won't be able to book a night in the same place, sorry!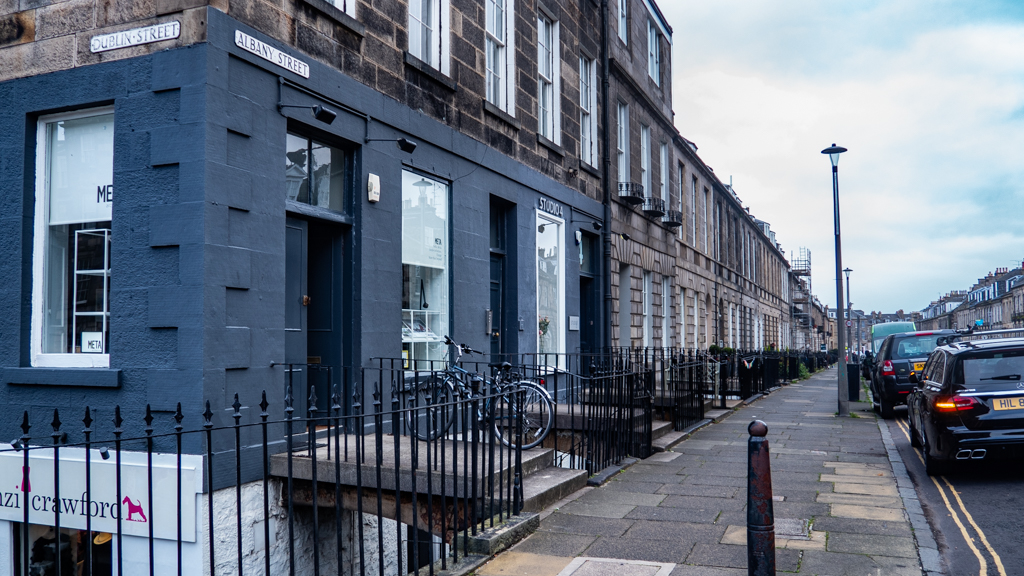 15. The White Hart Inn, 32 Grassmarket, Edinburgh
The Icelandic musical duo stop for a pint outside The White Hart Inn on Edinburgh's popular Grassmarket street. Apparently, this pub isn't just the oldest pub in Edinburgh (again, apparently), it is also haunted!
16. ATIK, 3 West Tollcross, Edinburgh
Checking out the local music scene, Lars and Sigrit head to the nightclub ATIK to enjoy the groovy tunes and light-up disco dancefloor. This club also featured as a filming location in T2 Trainspotting (2017), the sequel to 1996's Trainspotting.
Russian Eurovision performer Alexander Lemtov (hilariously played by Dan Stevens) takes Sigrit back to ATIK later in the film, after his house party.
---
Read next: One Day Filming Locations in Edinburgh, Scotland
---
17. Ross Fountain, Princes Street, Edinburgh
What better way to shake off a hangover than hiring Segways and riding through Princes Street Gardens? Lars and Sigrit do just that, where they circle around Ross Fountain. 
This is also where Lars does some self-reflecting and chats to a group of obnoxious American tourists later in Eurovision Song Contest: The Story of Fire Saga after arguing with Sigrit.
18. Calton Hill, Edinburgh
Lars and Sigrit continue to ride their Segways through Edinburgh, eventually reaching Calton Hill where they stop to listen to a performer playing the piano. Calton Hill has one of the best vantage points in the city, so if you're ever in Edinburgh, you should absolutely go there.
Sigrit and Lars take a breather and sit on a bench up this hill while gazing out over the Edinburgh skyline.
19. The SSE Hydro, Glasgow
After Fire Saga's disastrous performance in the Eurovision Semi-Finals, Lars storms off and starts knocking over recycling bins and portaloos. So, we know that the Eurovision venue is supposed to be in Edinburgh, just off the Royal Mile where the Bedlam Theatre is located to be specific. But the real-life exterior is actually The SSE Hydro arena in Glasgow.
20. Glasgow Airport
Lars heads to the airport so he can travel back to Iceland ASAP. Conveniently, he is wearing huge noise-cancelling headphones and dark sunglasses so he can't see the Eurovision news on the TVs behind the check-in desks.
Though Edinburgh does have an airport, Glasgow Airport is the one featured in the Eurovision movie.
21. New College, Mound Place, Edinburgh
After Lars learns Fire Saga are still in the Eurovision Song Contest, he needs to race back to Edinburgh to join Sigrit onstage. Luckily, he runs into the American tourists and they reluctantly give him a lift back to the contest venue.
On the way, they drive past The University of Edinburgh's New College building on Mound Place. It's a rather convoluted route up and down the same sections of the Royal Mile, George IV Bridge and Victoria Street, but they reach the venue in the end! Which is CGI'd, by the way. There's not a massive arena plonked in the middle of Edinburgh Old Town.
Eurovision Filming Locations Elsewhere (England and Israel)
22. Chobham Club, Surrey, England
The interiors to the Captain's Galley pub, where Fire Saga perform gigs in their hometown, is actually Chobham Club in Surrey, England. I know, right? Who on earth location scouted this place? So random!
23. Conway Hall, London, England
Before Iceland selects Lars and Sigrit as their act for the Eurovision Song Contest, they must out-perform the rest of the contenders in a mini song-off. Eurovision shot this scene inside London's Conway Hall, a small events venue built during the 1920s.
24. Knebworth House, Stevenage, England
Alexander Lemtov invites Fire Saga to a pre-contest party at his mansion along with all of the other contestants. Let's just gloss over why Lemtov would even own a house in Edinburgh, shall we? I don't think we'll reach any logical conclusion.
But Alexander Lemtov's huge stately home isn't in Edinburgh in real life, nor is it even in Scotland. The exterior is actually Knebworth House in Stevenage, England.
This is the scene where tonnes of former Eurovision winners perform together in a melody of hit songs. Among the most notable faces are Austria's 2014 winner Conchita Wurst, Sweden's 2012 winner Loreen and Israel's 2018 winner Netta Barzilai. Though many others pop up in this scene and the rest of the Eurovision movie, too!
25. Expo Tel Aviv, Israel
The final Eurovision filming location on this list! Phew, there are a lot of locations, right? The interior for the huge arena which hosted the European Song Contest 2020 was, bizarrely, Expo Tel Aviv. Why shoot all the way in Tel Aviv just for this one scene? Could they not find another suitable, closer venue? Who knows, eh, who knows…
And those are the top Eurovision filming locations in Scotland and Iceland and answers the question where was Eurovision filmed?! Have you watched Eurovision Song Contest: The Story of Fire Saga on Netflix? Or have you visited any of the movie locations? Let me know in the comments below!
---
Read next: Avengers: Infinity War Filming Locations in Edinburgh
---