Director John Ford and actor John Wayne are best known for their cowboy collaborations. But this muted movie, 70 years later, is still an undisputed classic and essential St Patrick's Day viewing for those who celebrate around the world. Why? Well, not only is it a great film, but The Quiet Man filming locations in Ireland are top-notch, too.
John Wayne is the titular character, Sean Thornton. After a boxing tragedy, Sean moves back to the home country in search of a peaceful life. He meets the freckled and flame-haired Mary Kate (Maureen O'Hara) but a dispute with her brother makes their relationship difficult.
Ford shot some scenes, mostly interior ones, at the Republic Studios in Los Angeles. But one of the reasons why The Quiet Man continues to stand the test of time is the authentic and beautiful locations. So, want to know exactly where that John Wayne movie set in Ireland filmed? Let's take a look! I've provided a The Quiet Man location map so you can visit the places in person, too.
Where Was The Quiet Man Filmed?
The Quiet Man Filming Locations in Ireland
1. Ballyglunin Railway Station, County Galway
The very first The Quiet Man filming location is a corker. Sean pulls up in a steam train at Castletown, which is fictional. In reality, the train station is Ballyglunin Railway Station in County Galway.
The station is tiny and no longer in use, but it is such a popular tourist attraction that it is still open to fans! And the big green "Castletown" sign still stands proud on the platform. This filming locations nerd fully respects this level of dedication.
2. Quiet Man Bridge, County Galway
But, how can I be sure that this is the Quiet Man Bridge? Because it is called the Quiet Man Bridge! Yes, like James Bond Island, some things become so synonymous with popular culture that they demand notoriety. On his way from Castletown Railway Station to his hometown of Inisfree, Sean hops off his horse and cart while on a cobblestone bridge to admire the landscape in County Galway.
Two things: I need to express how happy I am that John Ford hired actual Irish actors for many of the supporting roles. I just do not think I could cope with listening to that many awful fake accents. I don't know why actors struggle to mimic Irish, but they do.
And second, Sean's hometown is the fictional Inisfree, not the real Isle of Innisfree in County Sligo.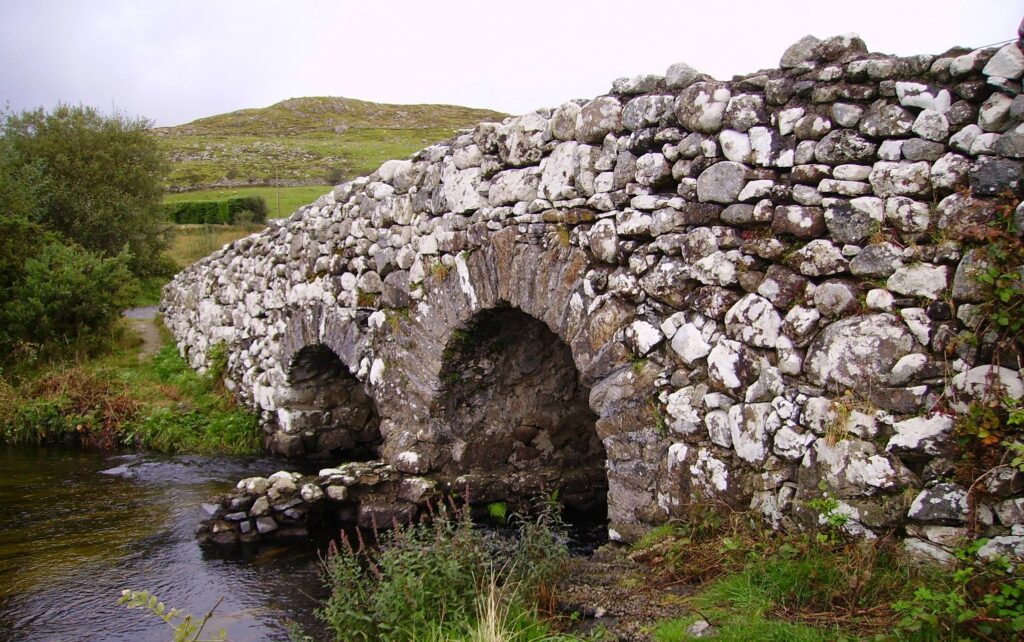 3. Ashford Castle, Cong, County Galway
As Michaeleen Flynn chats with Father Lonergan, Sean spots a beautiful ginger lady herding sheep in a field. And who can blame him, eh? It is, of course, Maureen O'Hara as Mary Kate Danaher. She is herding sheep on what is now the third fairway of a golf course. It is part of the 13th-century Ashford Castle estate in Cong, County Galway on the border of County Mayo. The castle's estate is one of the most prolific The Quiet Man film locations, though the castle itself only appeared in the opening credits.
Ashford Castle is now a luxury hotel. Most of the cast and crew stayed here during filming.
When Sean and Mary Kate first start courting halfway through the movie, Michaeleen drives them across the Ashford Castle Bridge and drops them off near Father Lonergan's salmon fishing spot, which I've pinned on the map. Their tandem bike ride is probably through some of the castle grounds, too.
4. Pat Cohan's Gastro Pub, Cong, County Mayo
The Quiet Man locations get better and better. Having just arrived in Inisfree, Michaeleen takes him to the local pub for a cold one. It is Pat Cohan Bar which is still there today! From the outside, it looks no different. It is located on Main Street in Cong, County Mayo. Literally just down the road from Ashford Castle.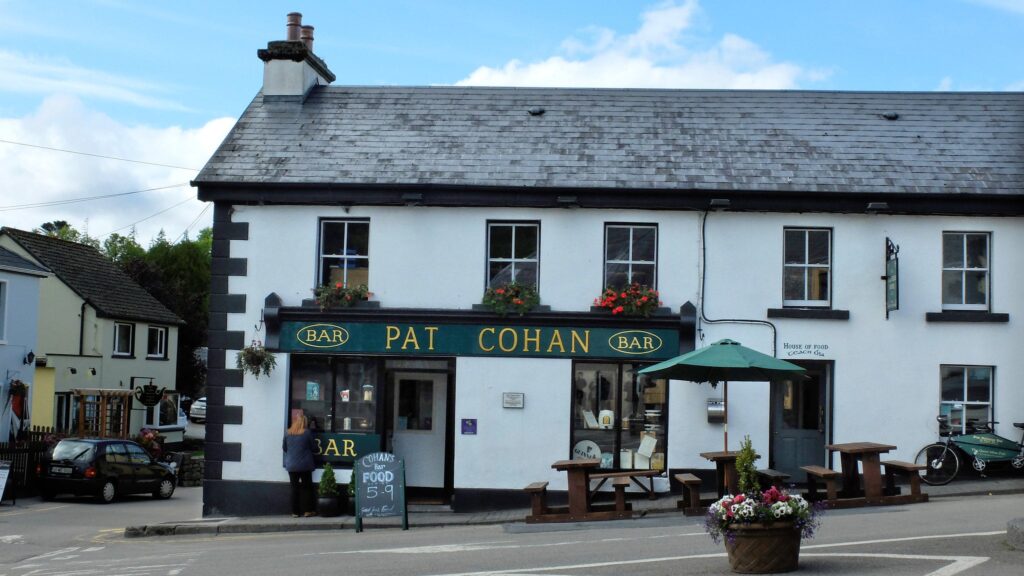 5. St Mary's Church of Ireland, Cong, County Mayo
Sean attends Father Lonergan's 7 o'clock mass as he promised to pay respects to Sean's deceased mother. The exterior is St Mary's Church also in Cong, County Mayo.
---
Read next: P.S. I Love You Filming Locations in Ireland
---
6. St Mary of the Rosary Catholic Church, Cong, County Mayo
It's a little amusing that the exterior of the church is the local protestant church and the interior is the local catholic one. And they both have the same name! St Mary of the Rosary Catholic Church had such a stunning stained glass window, but the outside is in ruins. So, I understand why they chose a different church for the exterior of this The Quiet Man film location.
7. Strandhill House, Cong, County Mayo
Determined to buy back his childhood home, Sean pays a visit to the lady who now owns the house. Widow Tillane is rich and lives in a beautiful white cottage with a rather grand emerald interior. The inside is so obviously a studio set because it is way too lavish for rural Ireland in the 1920s, even if the owners did have the cash to spare. And the ceilings look 12ft high! It's supposed to be a COTTAGE.
Widow Tillane lives in Strandhill House opposite Ashford Castle overlooking the river. Unfortunately, the house does not exist anymore and the pin on the Google Map at the top of the post will take you to the car park that sits in its place. Though considering how old the film is, it is amazing seeing The Quiet Man locations then and now. So many are still knocking about.
8. The Quiet Man Cottage, County Galway
Sean manages to win around the villagers of Inisfree by buying everyone a pint of porter. That really is all it takes to get people onside, isn't it? Just buy people drinks. Then, Michaeleen escorts Sean to his new/old home, White O'Morn Cottage. Such an idyllic house with its thatched roof, flower beds and cosy fireplace. Unfortunately, this is one of the only The Quiet Man filming locations that has not stood the test of time.
White O'Morn or The Quiet Man Cottage location is just off the R336 near Teernakill North in County Galway (don't worry, it is pinned on Google Maps). It is a glorified pile of rubble but the concrete bridge that the men walk over is still there, though.
And if you are really keen, you can visit The Quiet Man Replica Cottage in Lurgan, County Galway. I imagine someone decided it would be a good business to create a replica after one too many disappointed fans visited the real one. It is on the grounds of the Peacockes Hotel.
---
Read next: Leap Year Filming Locations in Ireland
---
9. Quiet Man – Squire Danaher House, Ashford, County Galway
Bless every single soul who submitted one of The Quiet Man locations to Google Maps. You make my job so easy. After Sean spontaneously kisses Mary Kate in his cottage, he sends Michaeleen to stand outside of the Danaher House to announce his intentions to start courting Mary Kate. The house is located just southwest of Ashford Castle in the village of Ashford, and the cottage is 100% still there.
There is even a plaque that reads "Quite Man House 1951" on the front wall.
---
Read next: Braveheart Filming Locations in Scotland & Ireland
---
10. Lettergesh Beach, Connemara, County Galway
A bit random, but Sean enters the Inisfree Cup horse race? Because for some reason it an essential part of Sean and Michaeleen's trick against Will Danaher so he will allow Sean and Mary Kate's marriage? Personally, I do not understand this scene! Regardless, The Quiet Man location for this scene is Lettergesh Beach in Connemara, County Galway. Though John Ford definitely shot parts of the scene in the studio.
11. Friary of Ross, County Galway
Danaher decides to let Sean and Mary Kate start courting. Michaeleen, as the local matchmaker, is their escort. He sits them on opposite sides of the horse and cart and transports them through the countryside. He points out the " home of the ancient Flynns", meaning his ancestral home.
In reality, it is the oldest catholic monastery in Ireland dating back to the 1300s called the Friary of Ross in County Galway.
12. Quiet Man – Reverend Playfair House, Cong, County Galway
Sean and Mary Kate manage to give Michaeleen the slip by hopping on Reverend Playfair and his wife's tandem bike. Their cottage is in Cong, County Mayo just opposite St Mary's Church, the Catholic version. Another gorgeous cottage that is still there 70 years later!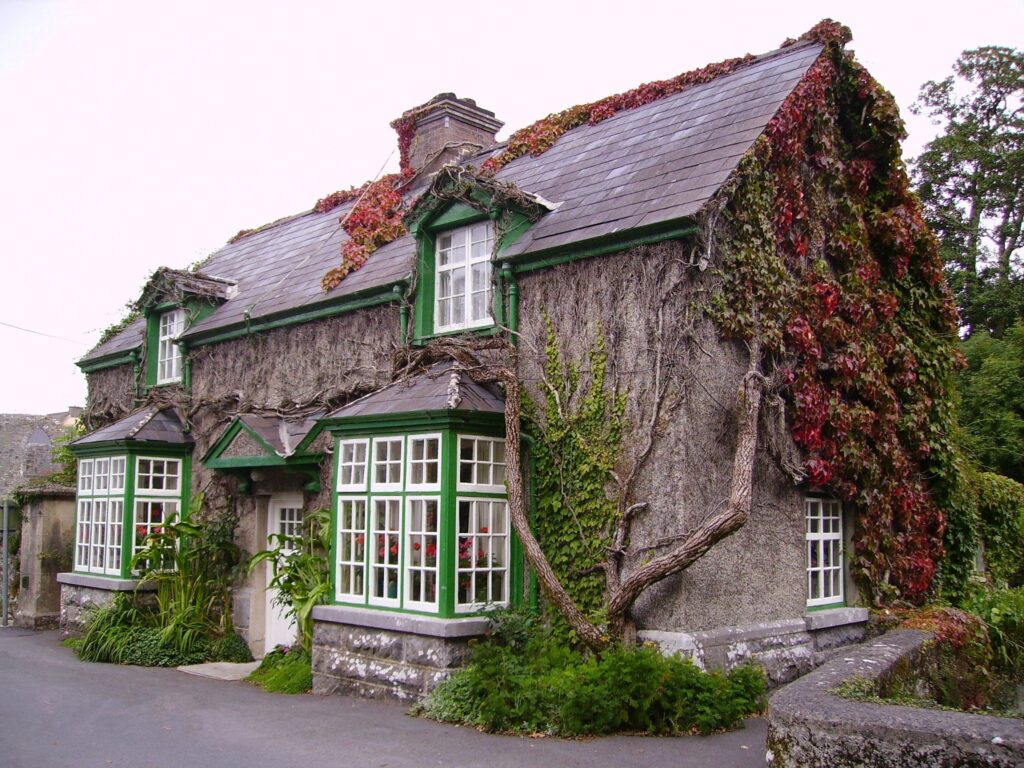 13. Thoor Ballylee Yeats Tower, County Galway
The pair pause a moment to admire the scenery on their tandem bike ride. Mary Kate decides to throw caution to the wind, strip off her stockings and run across a river. What a wild, out of control, feisty redhead she is! The Quiet Man filming location is Thoor Ballylee in County Galway. It is an old castle from the 1400s once owned by the famous poet William Butler Yeats. Partially restored in the 1960s, Thoor Ballylee is now a Yeats museum and resembles how it may have looked when the poet lived there.
Honestly, I am just super impressed by The Quiet Man filming locations. Just when you think they've done a pretty good job, you find out John Ford only went and bloody filmed at Yeats's old joint.
14. Puddleducks Café, Cong, County Mayo
Sean and Mark Kate marry and he surprises her with a new horse and cart before taking a trip to nearby Castletown. When they arrive, they have to stop in front of a tea room called Emily O'Connor's which is actually just Cong, County Mayo up the same road as Pat Cohan Bar. Today, it is a café called Puddleducks Café.
15. Fennel Seed Restaurant, Ryan's Hotel, Cong, County Mayo
Mary Kate looks across the road and spies her brother in Castletown drinking with farmhands outside a pub called P. Curran Pub. This pub is also located on Main Street in Cong but is slightly further down the road. So in reality, Mary Kate wouldn't have been able to see him from across the road. A little bit of cinema trickery! It is now the Fennel Seed Restaurant and is part of Ryan's Hotel.
---
Read next: The Lobster Filming Locations in Ireland
---
16. Connemara National Park, County Galway
I can't tell you exactly where, but Mary Kate abandons Sean in Castletown so he has to walk the 5 miles back to Inisfree. It's not all bad because he gets to walk through the beautiful Connemara National Park on his way.
17. Green and White House, Riverview, Cong, County Mayo
To teach her a lesson for threatening to leave him, Sean (literally) drags Mary Kate from Castletown Railway Station (not a massive fan of this scene tbh) to her brother's house to deliver his ultimatum. Either Will Danaher gives him the dowry, or he can have his sister back.
The two men resort to fisticuffs. This is, naturally, the most entertainment the town of Inisfree has had in years. A dying man called Dan Tobin is roused from his death bed in the Green and white house (third house from the west side) on Riverview in Cong to watch the fight.
The Quiet Man Museum, Tours & Giftshop in Cong, County Mayo
If you do plan on making the pilgrimage to The Quiet Man filming locations in Ireland, be sure to hit up The Quiet Man Museum in Cong. The building is also a small replica of the White O'Morn Cottage complete with a thatched roof and emerald green door. They have a statue of John Wayne carrying Maureen O'Hara as well as some of the movie posters, costumes and props.
You can also enquire about private tours at the museum because I don't believe they run regularly scheduled public ones. Or, you can hire a car and venture on your own filming locations tour by using this blog post and map!
And those are all The Quiet Man filming locations in Ireland! Have you watched the movie or visited any of The Quiet Man locations? Let me know in the comments below!
---
Read next: The Railway Man Filming Locations in Scotland, Thailand & Elsewhere
---