No offence to Milan, but one of the best things about this city is leaving it. Seriously. There are so many great potential day trips! Lake Como, Bergamo, Brescia… Taking a Milan to Bernina Express day trip on this historic railway wasn't even on my radar.
Cut to January 2023 when I was skiing in the Swiss Alps. I received a message from my Mexican pal telling me that he was taking a spontaneous trip to Italy the following week. We decided to meet in Milan because it was an easy place for me to reach from Geneva.
But Carlos had never been to Switzerland before and this seemed like a great opportunity. So, he planned a day trip (I was happy to follow his lead!) on the Bernina Express train to St Moritz, Switzerland from Milan, Italy.
It's such an impressive, scenic train journey with incredible views. I'm grateful we travelled in winter with snow glistening on the mountaintops and glühwein in our bellies. Taking a Bernina Express day trip from Milan is doable and easy, but only if you alight halfway at St Moritz in Switzerland.
If you also want to ride the UNESCO-certified train journey in one day, I'm sharing my experience travelling to St Moritz on the Bernina Express from Milan and back. This guide includes everything you need to know, and my insider tips, about taking a Milan Bernina Express day trip on this iconic red train!
What Is the Bernina Express? History of the UNESCO World Heritage Site
The Bernina Express is a train on the Rhaetian Railway network crossing the Swiss Engadin Alps. The route of the Bernina Express travels from the town of Tirano, Italy on the southern end to Chur, Switzerland on the northern end.
This entire journey takes about four hours to travel 144 km/90 miles. It can be part of a slower, much more scenic route between Milan and Zurich. It passes 55 tunnels, 196 bridges, several glaciers, and a few mountains calling at 25 stations along the route.
Just looking at a Bernina Express map, you might not appreciate the twists, turns and climbs it has to face during that 144 km journey which explains the slow speed. Not that the slow speed is a problem! There are so many amazing views, you wouldn't want to miss them.
The Bernina Express train is so noteworthy, it's also a UNESCO World Heritage Site.
Construction started on the railway in 1896 and was finally completed in 1904. Not only did it succeed in connecting the remote communities high in the mountains, but it was a bloody impressive bit of engineering.
The Bernina train climbs 2,253 metres/7,391 ft above sea level when it reaches Ospizio Bernina station, the route's highest point. It travels along circular bridges like the Brusio Spiral Viaduct and over 65 metre-drops when crossing the Landwasser Viaduct.
How to Ride the Bernina Express from Milan to St Moritz on a Day Trip
There are two clear options when planning a day trip to travel on the Bernina Express to St Moritz. You can DIY the entire trip by booking your train tickets on the regular rail network. Or, you can book an organised tour.
Option 1: Independent Train Travel
To travel independently on the train from Milan to St Moritz, buy a regional Trenord train ticket from Milano Centrale Railway Station to Tirano. These trains leave every two hours and the journey takes around two and a half hours, so you will need to leave early.
You don't need a seat reservation and you can buy a return ticket at the station.
Once you arrive in Tirano, you will need to leave the station where you arrived and head to the Rhätische Bahn station across the plaza. This is the Tirano Bernina Express station. If you can see lots of red trains on the platforms outside the station then you're in the right spot.
You can either book a regular, regional train that travels along the Bernina Express route or the official Bernina Express train to St Moritz. You could also book one type of train there and a different train for your return journey. I'll talk more about the different Bernina Express tickets further down.
Option 2: Organised Bus Tour
Carlos and I didn't travel the whole journey by train from Milan to St Moritz, we opted for an organized bus tour instead. My friend booked this Bernina Express day trip through Get Your Guide. It was a Spanish and English tour, which as you can imagine, was essential for us!
A tour guide and coach picked us up outside Milano Centrale at around 7:15 and drove us along the banks of Lake Como to Tirano. We had roughly one hour to buy food to eat on the train (we went to El Trigo Pasta Fresca which was like a deli and it was bloody delicious).
Afterwards, we boarded a 2nd class carriage on a regular, regional Bernina Express train to St Moritz. The journey took just over two hours. After a couple of hours exploring St Moritz, the coach met us in St Moritz and drove us all the way back to Milan.
So, we didn't ride the Bernina Express to Milan for the return journey but we didn't need to. It was a long day and I was happy to get back on the bus and head straight to Milan. Everyone on our tour fit inside one train carriage and it was honestly such a lovely experience.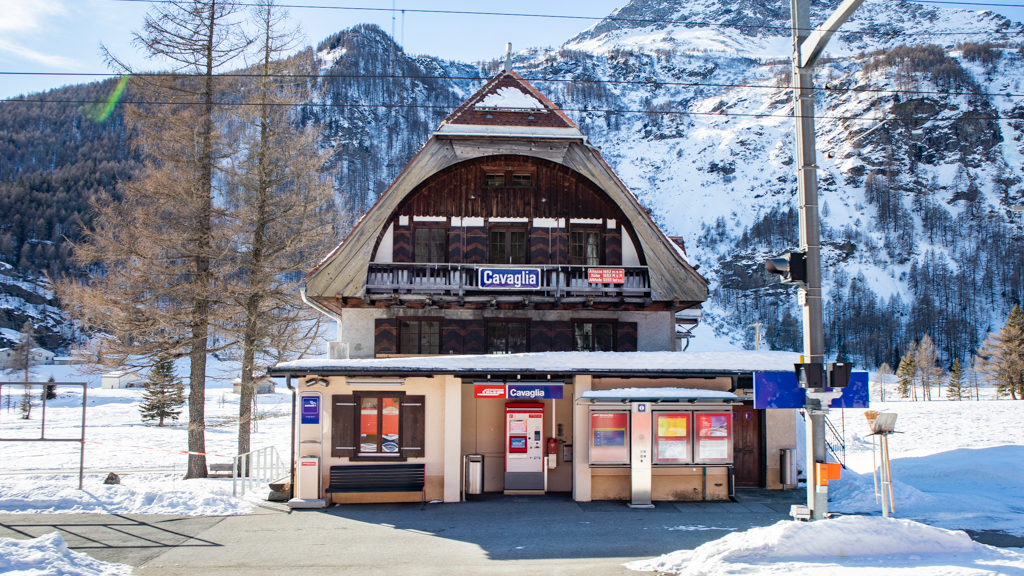 Bernina Express to St Moritz Price & Train Ticket Options
So, let's compare a regular regional train vs the Bernina Express train. In terms of the style of the train, there's virtually no difference except for the windows. On regional trains, the windows are not 'panoramic' meaning they aren't as big. However, on a regional train, you can open them.
While this made the train quite cold since we were travelling in January (though we shut them now and again), we didn't get any glare on our photos. On the official trains, the panoramic windows stay closed.
On a regional train, I don't think you need seat reservations, especially if you're not travelling 2nd class. But on the official train, you need a regular ticket and a separate seat reservation for a particular service no matter which class you are travelling on.
Here's a rough idea of ticket prices based on current (March 2023) information:
Milan to Tirano Single Ticket – €11.50 in 2nd class or €17.50 in 1st class
Tirano to St Moritz Return Single Ticket – CHF 64 (around €64.50) in 2nd class or CHF 112 (around €113) in 1st class
You can buy seat reservations up to six months in advance. Prices for a seat reservation are around CHF 20 (around €19) and CHF 26 (around €25) depending on the season. Then, you can buy regular train tickets which are available six weeks in advance. These don't sell out.
Find up-to-date ticket prices and timetable information on the Bernina Express website.
Things To Do in St Moritz: Switzerland's First Resort Town
St Moritz is in the German-speaking Swiss Canton of Grisons. According to our tour guide, it was one of the first winter ski resort towns in the world. It's an expensive, luxurious resort dotted with designer stores, upmarket restaurants, and English toffs comparing Range Rovers (in my personal experience).
We didn't have a lot of time in St Moritz on this Milan to Bernina Express day trip, but we made the most of it. We visited the Hauser Confiserie chocolate shop where I bought chocolate in the shape of skis. I ate them the next day waiting to board my plane home at 4:00 in the morning because I am feral.
We walked along Via Maistra, drank glühwein in one of the town squares, and wandered down a small lane to see beautiful views across St Moritzersee lake. It's completely frozen solid in winter so they had tents set up and were preparing for an ice polo game. Rich people and their horses, eh?
Other things to do in St Moritz include the Segantini Museum which is an art museum dedicated to an Alpine painter and the Engadiner Museum with alpine culture exhibits. There are lots of sun symbols dotted around the town which must be an emblem of St Moritz.
Milan to Bernina Express Day Trip FAQs
What months does the Bernina Express run?
The Bernina Express train journey is open year-round. You're able to experience the landscapes surrounding the train line in all seasons and weather.
How often does the Bernina Express run?
The Bernina Express train runs between Chur and Tirano twice during the summer months and once during the winter months. The summer season is from around May to October, and the winter season is the rest of the year.
There's usually one extra service between Tirano and St Moritz in the winter season, and two extra in the summer season. This is for the official Bernina Express trains, anyway. There are probably more regional services.
When is the best time to ride the Bernina Express?
Well, what's your favourite season? You can ride the Bernina Express year-round so take your pick!
I'm biased because there's nothing like witnessing the Swiss Alps in their natural state, covered in snow. I'm sure spring would be beautiful with the flowers and lush green fields. Obviously, I've never travelled on the Bernina Express in summer but I would imagine it's busy.
What are the Bernina Express trains like?
Bernina Express trains all have a uniform ruby-red sheen. It makes them stand out against the snowy mountainous landscapes in winter and the meadows in summer.
There are 1st and 2nd class carriages on the Bernina Express. There isn't much difference except 1st class carriages have slightly fewer seats than in 2nd class and they are covered in leather. Both carriage classes have windows, small tables, electrical sockets, and luggage compartments.
Official Bernina Express trains and the regional services that follow the same route have very few differences. Official trains have panoramic windows that don't open and refreshment trolleys. Regional services have windows you can open (no glare on your photos!) and you can bring your own food and drink.
Which side of the Bernina Express train is better?
Most passengers agree that if you are travelling from south to north from Tirano to St Moritz, sit on the left side. But if you are travelling from north to south from St Moritz to Tirano, sit on the right.
Bear in mind that you can move around the cabin to take photos! You aren't glued to your seats.
Milan to Bernina Express Day Trip: That's a Wrap!
That's how I travelled on a Milan to Bernina Express day trip! I hope you found it useful and feel inspired to take the train journey yourself.
Are you currently planning a trip to Milan and thinking about booking tickets on the Bernina Express? Let me know in the comments below!
---
Read next:
One Day in Geneva: Winter Day Trip to Switzerland's Global City
16 Reasons This Swiss Hostel is the Best Place for Workation
This is the Perfect Group Ski Holiday for Solo Travellers in Europe