Bridget Jones is one of the most iconic rom-com trilogies based in London. Actually, it might be the only one. I couldn't split up this beloved film series into three posts, so I'm hitting you with all of the Bridget Jones filming locations in England at once!
The Bridget Jones film series consists of Bridget Jones's Diary (2001), Bridget Jones: The Edge of Reason (2004) and Bridget Jones's Baby (2016). First, it was a newspaper column and then a book series before hitting the big screen. The movies follow Renée Zellweger in the titular role and her life in London.
She's an endearing, "real" woman who is relatable, clumsy and hilarious. Her life consists of working in publishing and television, her friends and adorable parents, her lovers Mark Darcy (played by Colin Firth), Daniel Cleaver (played by Hugh Grant) and Jack Qwant (played by Patrick Dempsey) and her diary!
It's a long post, so let's dive in. This is a detailed guide to all of the Bridget Jones film locations in England, mostly London. Plus, I've made a google map so you can visit them all in real life, too! If you are interested in Bridget Jones: The Edge of Reason filming locations in Thailand, I have a separate post dedicated to those.
Bridget Jones Filming Locations: All Three Films!
Bridget Jones's Diary Filming Locations
1. Hall's Piece, Snowshill, Broadway, Gloucestershire
This is one of the very first Bridget Jones's Diary film locations. The movie opens with Bridget heading to her parent's house on idyllic, wintery New Year's Day. Her taxi drives past St Barnabas Church in Snowshill, Gloucestershire. She hops out of the taxi just around the corner opposite 2 Glebe Cottages/Manor Farmhouse in Snowshill and walks up a driveway to a home called Hall's Piece. 
2. 8 Bedale Street, Borough, London
After her unfortunate meeting with the decidedly uncharming Mark Darcy, Bridget is back in her flat contemplating how to revamp her life and not end up an old maid. Bridget Jones's apartment is at 8 Bedale Street in Borough, London. It's above a pub called The Globe and next to some train tracks.
This is one of the most prolific Bridget Jones's Diary locations and appears several times throughout the film.
3. Tate Modern Level 9 Restaurant, Bankside, London
After fudging up in front of her boss/crush Daniel Cleaver, Bridget meets up with her friends Shazza, Jude and Tom to gossip. They're enjoying shots, nachos and cigarettes at the Tate Modern Level 9 Restaurant in Bankside, London above the Tate Modern Art Gallery. Is it just me that finds it really weird watching people in movies released between 2000-2006 smoke indoors?
4. Tower Bridge, London
Ah, an iconic London landmark has finally smuggled its way into the Bridget Jones film locations. Bridget contemplates her IM flirting with Daniel (or "office scoundrel") as she walks across a busy Tower Bridge. She walks across this bridge, wearing the exact same plum scarf in the exact same direction, a couple of times throughout the film.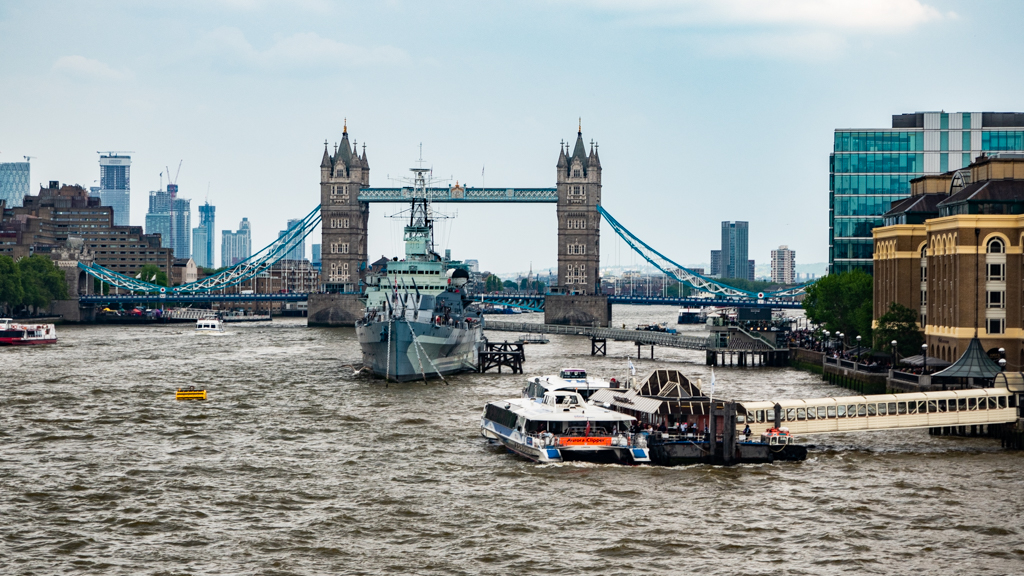 5. Momo, 25 Heddon Street, London
In a bid to avoid diving headfirst into Daniel's arms and attract better, more intelligent suitors, Bridget's friends give her swaths of specific and unhelpful advice. They do so at a fancy Michelin-starred Mediterranean restaurant called Momo in Mayfair, London. The restaurant is still there, 20 years later.
6. Piccadilly Circus, London
Having just decided to wear stomach-sucking granny knickers over pretty black underwear (bad choice Bridge'…) she heads out to the book launch of a book about Franz Kafka which the publishing company she works for is hosting. Bridget runs through Piccadilly Circus on her way there.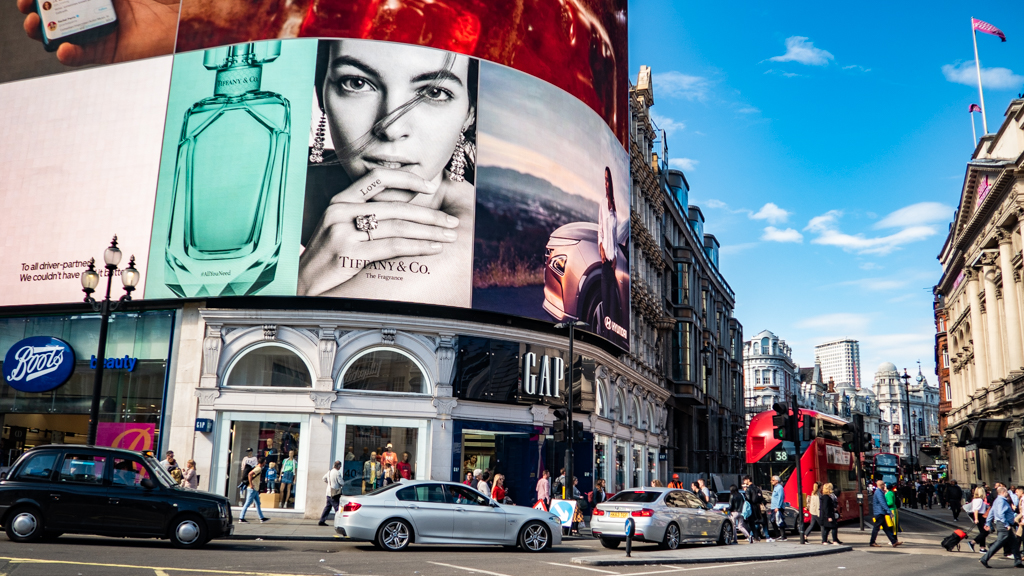 7. Institute of Contemporary Arts, The Mall, London
There is some fantastic continuity in these Bridget Jones locations because Piccadilly Circus is just down the road from where the publishing house is begrudgingly launching "Kafka's Motorbike." It's at the Institute of Contemporary Arts, a 1-minute carriage ride from the Queen's house.
8. Cantina Del Ponte, 36c Shad Thames, London
Bridget royally stuffs up at the launch of "Kafka's Motorbike" which leaves her vulnerable to Daniel's advances. He takes her out to dinner afterwards at an Italian restaurant on the banks of the Thames called Cantina Del Ponte. Again, the restaurant is still open should you wish to recreate Bridget and Daniel's first date.
9. Shad Thames Wharf Bridges, London
After dinner, Bridget and Daniel walk out underneath the Shad Thames Wharf Bridges where they share their first kiss.
10. Pickfords Wharf Apartments, London
Inevitably, Bridget ends up back at Daniel's apartment. Again, I adore the continuity of these Bridget Jones filming locations because Daniel lives either a 7-minute drive or 20-minute walk away from the restaurant when he and Bridget had dinner. It's so in keeping with Daniel's character that he would wine and dine women close to his home. He lives in an enormous flat in the Pickfords Wharf Apartments building.
11. ARKET Store and Café, 224 Regent Street, London
Bridget meets up with her mum who is something of an entrepreneur. The department store where Pamela Jones is demonstrating her weirdly sexual egg peeling device was the Dickins & Jones department store in 2001. Now, it's an ARKET Store & Café.
12. Stoke Park Hotel, Stoke Poges, Buckinghamshire
Daniel takes Bridget on, in her words, a mini-break holiday weekend. Did you know that if someone takes you on a mini-break, it's true love? I'll have to note that down for future reference.
Their hotel is the Stoke Park Hotel in Buckinghamshire. This upmarket hotel (with fireplaces and chandeliers in the rooms) was also the golf club in Goldfinger (1964).
13. Borough Market, London
After discovering Daniel with Lara from the New York office, Bridget walks home through an empty Borough Market looking like a rejected Playboy bunny. Borough Market is one of the many, many Harry Potter filming locations in London.
---
Read next: Harry Potter Filming Locations in London: A Complete Guide
---
14. B K News London, 212 Strand, London
Bridget now works for the current affairs programme 'Sit Up Britain' as some kind of researcher/reporter. Her boss instructs her to cover a high-profile case at a London courthouse. Just as she pops into the local corner shop for cigarettes and snacks, she misses the verdict. The corner shop is B K News London on The Strand.
15. Royal Courts of Justice, The Strand, London
Mark Darcy, the top London Human Rights barrister, swoops in and saves Bridget's job by offering her an exclusive interview. This Bridget Jones filming location is inside the Royal Courts of Justice which is amazing because they let very few film productions shoot there. Well, they did for Richard Curtis's About Time (2013) ten years later. But still, very few.
---
Read next: About Time Filming Locations in England
---
16. Bedales, 5 Bedale Street, Borough, London
Yet again, Mark saves the day when Bridget ruins the birthday meal she was cooking for her friends. Out of the blue (soup), Daniel Cleaver rocks up and prompts the infamous full-on brawl with Mark which begins outside Bridget's home, into the Greek restaurant opposite then back outside via the shop window.
I think it may have been a restaurant at the time, but it isn't anymore. Bedales, a wine merchant, now resides at 5 Bedale Street.
17. Syon House, Brentford, Middlesex
It's christmastime and Bridget is at her parent's house. She learns the real history about why Daniel Cleaver and Mark Darcey are sworn-enemies and high-tails it the Darcys' Ruby Wedding Anniversary party (Mark's parents, that is) to win Mark back.
I'm not 100% certain about the exterior location that stands in as the Darcys' party venue. Some say it's Wrotham Park in Barnet, Hertfordshire but there are too many differences. The interior, however, is Syon House in Brentford, Middlesex.
18. London Stanstead Airport, Essex
Things go south for Bridget. At the Darcys' party, she learns Mark is moving to New York with his tightly-wound lawyer girlfriend. Bridget heads home and sulks while Darcy heads to the states. JFK Airport in Bridget Jones's Diary is actually London Stansted Airport. It's not the first time Stansted has stood-in for a New York airport. It also appeared as Newark Airport in Spider-Man: Far From Home (2019).
---
Read next: Spider-Man: Far From Home Locations in Europe
---
19. Royal Exchange Buildings, Cornhill, London
In a last-minute will-they-won't-they turnaround, Bridget (sans trousers) and Mark finally embrace! Bridget chases Mark through the snow in just her cardi to No.11 Royal Exchange Buildings in Cornhill where Mark is buying her a new diary. What a bloody brilliant end to a timeless rom-com.
Bridget Jones: The Edge of Reason Filming Locations
1. Hall's Piece, Snowshill, Broadway, Gloucestershire
Bridget Jones: The Edge of Reason kicks off exactly where Bridget Jones's Diary did at the titular character's parents house for a traditional New Years turkey curry. Her parents live in the picturesque Cotswolds town called Snowshill in Gloucestershire. But this time, she and Darcy are an item.
2. Primrose Hill Park, London
To visualise just how in love Bridget and Mark are, there is a brief fantastical interlude where the pair run towards each other in slow motion like they're escapees from a Jane Austen novel. She compares their love to Maria and Captain Von Trapp in The Sound of Music (1965) and, bizarrely, Snow White and the Seven Dwarfs (1937).
Primrose Hill Park is the dreamy country park where this scene is set, which overlooks Regent's Park.
3. Stockers Farm, Rickmansworth, Hertfordshire
One of the more unexpected Bridget Jones: The Edge of Reason locations. Our pal Bridge' throws herself out of a plane with a camera strapped to her helmet for her role as a broadcast reporter on 'Sit Up Britain.' Obviously, actress Renée Zellweger did not throw herself solo out of a plane in reality. Close-up shots of her parachuting happened at Headcorn Aerodrome in Ashford, Kent.
Because she's Bridget Jones, she doesn't just land safely in a field. She lands straight into a pig pen on Stockers Farm in Rickmansworth, Hertfordshire.
4. 8 Bedale Street, Borough, London
And we're back at 8 Bedale Street, Bridget's flat above a pub called The Globe in Borough, London which is one of the most iconic Bridget Jones filming locations. Not much has changed, except she often wakes up to find a man who looks rather like Colin Firth in her bed.
5. 233 Shoreditch High Street, London
Bridget goes out for drinks and cigarettes with her silly friends who manipulate her low self-esteem and convince her that Mark is cheating. This is where Bridge' runs into Janey Osbourne, an apparent threat, who does not help matters either. The bar they're all sitting in is the Light Bar and Restaurant in Shoreditch but it's closed down and I think the building is about to be demolished!
6. 9 Kings Road, Richmond, London
So instead of making the sane decision to trust Mark until he actually does something to warrant her suspicious, she creeps around his house and falls off his conservatory. Smart. Mark lives in a different world to Bridget or at least a very different part of London. Mark's house address is 9 King's Road in Richmond. Sadly the stone lions on the front gate aren't there anymore.
7. Piccadilly Circus, London
Another repeated Bridget Jones location is Piccadilly Circus, where the iconic billboards display prominent moments in Bridget's life as headlines.
8. Rigby & Peller Mayfair, 22A Conduit Street, London
Before Mark's posh law council dinner, Bridget must buy a suitable dress, suitable underwear and enlist the services of a professional stylist to make her hair look suitable and appropriate, too. She pops into a classy lingerie store in Mayfair called Rigby & Peller to buy a corset of all things.
9. One Great George Street, Westminster, London
One of the most iconic Bridget Jones: The Edge of Reason film locations and scenes is this one right here: the infamous red-face-gold-dress scene!
Bridget joins Mark at some prestigious, red carpet law dinner wearing an outfit that makes her look like a candlestick that spent too long in a tanning bed. Oh, and she's wearing those silly big knickers again. But classic Bridget, right? This event is at One Great George Street in Westminster. 
10. Tower Bridge, London
After the dreadful law dinner, Bridget and Mark walk along the Thames on the Left Bank. Our good friend, the Tower Bridge, is lit up in the background.
---
Shortly after this walk, Mark tells Bridget he loves her and takes her on a ski trip to Lech, Austria. And shortly after that, Bridget breaks up with Mark and is assigned a broadcasting job in Thailand with her old boyfriend/nemesis Daniel Cleaver. This post is about the Bridget Jones filming locations in England so I'm just mentioning them both briefly.
I have an entire post detailing all the Bridget Jones: The Edge of Reason filming locations in Thailand you can read here.
---
11. Italian Gardens, Hyde Park, London
I don't know if the museums in London's Hyde Park have all swapped around since 2004 when Bridget Jones: The Edge of Reason came out or if something fishy is going on. Mark returns from Thailand after busting Bridget out of jail to confront Daniel Cleaver during a TV segment at the Serpentine Gallery.
He demands Daniel meets him outside (reminiscent of the fight scene in Bridget Jones's Diary) where they scuffle and end up in one of the fountains in the Italian Gardens. Except the Serpentine Gallery is not really near the Italian Gardens, and it's not the building they leave either. Erm, weird. Great scene, though! It's one of the best Bridget Jones filming locations, too.
12. Trinity Church Square, London
Bridget is determined to win back Mark Darcy. First, she visits his house where there is a bizarre encounter with Mark's colleague Rebecca which is just silly. Then, she hails a taxi on Trinity Church Square because it's p*ssing it down.
13. Farringdon Street, London
The black cab drives down Farringdon Street where Bridget asks the driver for his opinion on her outfit. WHILE HE'S DRIVING. Plus, now is not the time for wardrobe changes, Bridget.
14. The Honourable Society of the Middle Temple, London
Bridget finally drives up to Mark's office after racking up £££ in taxi fare. Mark's chambers are in the Honourable Society of Middle Temple building. I have no idea what this building is for IRL but sounds super fancy!
15. St James's Church, Shere, Surrey
After Bridget and Mark reunite, it's time for Pamela and Colin Jones's reaffirmation ceremony in their lovely lavender attire. The commitment ceremony takes place at St James's Church in Shere, Surrey, nowhere near where they live in the Cotswolds. This church also briefly appeared in another rom-com set in the English countryside, The Holiday (2003)!
---
Read next: The Holiday Filming Locations in England & USA
---
Bridget Jones's Baby Filming Locations
1. 8 Bedale Street, Borough, London
And once again, we are back at Bridget's apartment on 8 Bedale Street in Borough. She must have an excellent relationship with her landlord to be living in the same London apartment for 15+ years. Also, Bridget turned 32 in 2001 and is turning 43 in 2016… You work that one out.
2. Borough Market, London
After her birthday phone call from Mum, she walks through Borough Market to catch us up on what's been happening in her life for the past 10 years. Specifically, she walks past the Floral Hall which featured in Paddington (2014) and you can see The Shard in the background.
---
Read next: Paddington & Paddington 2 Filming Locations in London
---
3. Southwark Bridge, London
Finally, Bridget Jones's Baby filming locations bring us a London bridge that isn't Tower Bridge. She walks across the less iconic but still lovely Southwark Bridge while checking out plain men in suits. Bridget also walks across this bridge later in the film when she spots Mark with his ex-wife.
4. St Clement Danes Church, Strand, London
Unfortunately for Bridget, she has to attend a funeral on her birthday. Fortunately, it's the funeral of Daniel Cleaver (sorry, not sorry). It is the beautiful and contemporary St Clement Danes Church in The Strand which has black and gold embellishments, so it's a very classy funeral. And large enough to house all his young, blonde female acquaintances.
5. Regus, 2 Kingdom Street, Paddington, London
Bridget is now a senior producer at 'Hard News' where she is friends with one of the broadcast presenters. The studios and offices of this TV show/channel were Regus Studios at 2 Kingdom Street but I believe they've moved elsewhere. No matter, the Bridget Jones filming location is still 2 Kingdom Street.
6. St Pancras Station, London
Bridget arrives at St Pancras Station where she is under the impression work pal Miranda is taking her on a spa weekend. Erm, not quite.
7. Windsor Great Park, Windsor, Berkshire
Miranda drags Bridget to a music festival ( I think Bridget Jones's Baby implies it's Glastonbury) wearing heels, white jeans and a rolling suitcase. The musical festival scenes take place in Windsor Great Park in Windsor, Berkshire with some b-roll from actual festivals (and a lil' bit of CGI). For example, Ed Sheeran's set at Croke Park in Dublin, Ireland features in the film. Snow White and the Huntsman (2012) also utilized Windsor Great Park as a filming location.
---
Read next: Snow White and the Huntsman Filming Locations in the UK
---
8. Stoney Street, London
After hooking up with attractive Jack at the music festival, Bridget meets her old mate Shazza on Stoney Street (just behind Bridget's flat) to drive her and her young children to the christening of one of Jude's kids.
9. St Mary's Church, Swinbrook, Oxfordshire
The christening is at a small but cute church called St Mary's Church in the pretty town of Swinbrook in the Cotswolds. This is where Bridget comes face to face with her ex Mark Darcy after running into him at Daniel Cleaver's funeral.
10. West Wycombe Estate, High Wycombe, Buckinghamshire
Bridget gets down with the kids, literally, dancing to 'Gangnam Style' with the children at the christening reception. It's here she learns that Mark Darcy and his wife are splitting up and the exes enjoy a bonus night. The daffodil yellow West Wycombe Estate in High Wycombe, Buckinghamshire hosted the reception.
11. University College Hospital, Bloomsbury, London
Bridget is having a baby! That's a given, but the big question is: who's the father?! Bridget's doctor is the wonderfully deadpan Emma Thompson and she goes for several doctors appointments at the University College Hospital in Bloomsbury. And she births the baby here too. Definitely one of the least glamourous (but necessary to the plot) Bridget Jones's Baby film locations.
12. Granary Square, King's Cross, London
Bridget finally discovers the attractive man she slept with at the music festival is dating guru/billionaire Jack Qwant. She debriefs the news with her old pals Tom and Shazza in Granary Square over nibbles and drinks.
13. The Supreme Court, Westminster, London
After Bridget leads Jack to believe he's the only man in the running to be her baby's father, she decides to tell Mark too. He is inside The Supreme Court in Westminster defending the 'Poonani' case which is just hilarious. I love this feminist colour on Mark.
14. The Honourable Society of the Middle Temple, London
Bridget and Mark take a stroll down the street to Mark's personal chambers at the Honourable Society of Middle Temple. This is one of Bridget Jones's Baby locations that featured in one of the previous films, Bridget Jones: The Edge of Reason.
15. Aquatics Centre, Queen Elizabeth Olympic Park, London
Both potential dads get very involved in the prenatal classes. Bridget attends one at the London Aquatics Centre while Jack asks her how she wants to give birth to her placenta. There is more than one option?!
16. Greenwich Park, Greenwich, London
After Mark abandons Bridget (almost) holding the baby, she chats with Shazza in Greenwich Park while watching Jack entertain Shazza's two young kids in a white gazebo.
17. Hall's Piece, Snowshill, Broadway, Gloucestershire
It isn't a Bridget Jones movie without a festive trip to see the parents in Snowshill, Gloucestershire so that's exactly what Bridget does! Sans fathers, she heads home to catch up with Pamela and Colin (Gemma Jones and Jim Broadbent play her parents, by the way).
18. Albert Bridge, Battersea, London
Bridget goes into labour a few weeks early and has simultaneously managed to lose her house keys, car keys, handbag and bank card. Lucky Mark Darcy is around to rescue her, once again. After protests foil their plan of driving to the hospital via an Italian takeaway van, Mark attempts to carry Bridget to the hospital. Jack meets them on the Albert Bridge to take over carrying duties.
19. Saint Lawrence Church, West Wycombe, Buckinghamshire
After the birth of Bridget's baby boy, she finally gets her happy ending with Mark Darcy. They marry at Saint Lawrence Church in West Wycombe, Buckinghamshire.
And those are all the top Bridget Jones filming locations from all three films: Bridget Jones's Diary, Bridget Jones: The Edge of Reason and Bridget Jones's Baby! Have you watched the movies or visited any of the filming locations? Let me know in the comments below!
---
Read next: About Time Filming Locations in England
---