In The Secret Life of Walter Mitty (2013), Ben Stiller's Walter works for LIFE magazine. Their company motto is, "To see the world, things dangerous to come, to see behind walls, draw closer, to find each other, and to feel. That is the purpose of life." Now, I'm not suggesting we found the purpose of life on our recent 5 day Iceland itinerary. But we did see more of the world and we felt… very, very cold at times.
– This is a collaborative post with Jet2holidays who gifted one of their package holidays to me in exchange for this post but all words and opinions are my own.
The movie's Iceland scenes might've sparked my desire to visit nine years ago, but many other TV shows, films, and bloggers have fanned the flames since then. So I got very excited when Jet2 offered one of their city breaks to Reykjavík for me and a pal. Finally, we'd get to explore the Land of Fire and Ice which seems to hoard natural wonders like a greedy Greek God. Somewhere that everyone and their mother has been raving about for a decade.
Wow, it was worth the wait. Rekjavík is a perfectly compact capital stuffed with bakeries, landmarks, and world-class restaurants. And no Iceland itinerary is complete without an excursion or two. So, we squeezed in a Golden Circle Route tour as well as trips to the Blue Lagoon and to see the Northern Lights. Since we visited in March 2022, we caught the end of the aurora borealis season. But did we see them?! Keep reading to find out!
This Iceland 5 day itinerary details everything we did over our four nights in Reykjavík. So, two of the days are only travel days. But there are still tons of activities and suggestions that will help you plan your very first trip to Iceland too.
Our 5 Day Iceland Itinerary for First Time Visitors
5 Day Iceland Itinerary: Day One (Reykjavík)
Experiencing the Local Side of Reykjavík
To say our 5 days in Iceland got off to a rocky start is… Accurate. And not just because it was so windy we had to sit on the tarmac for an hour at Keflavík Airport for it to die down before we could disembark.
When you book a Jet2 city break, you get a generous cabin baggage allowance as well as a hold baggage allowance included. My travel partner Ellie and I both took advantage of this allowance, despite my usual aversion to checking in baggage. While my suitcase made it safely off the plane, Ellie's didn't. We filed a missing luggage report (almost missing our coach transfer!) and thankfully received a text a few hours later saying Manchester Airport had located her suitcase. In the end, she received it around midnight the next day.
But this little blip meant we had to pay a visit to Eyesland (an Opticians with a cracking name) so Ellie could get some contact lenses. We also sought out a local pharmacist and popped into H&M for the essentials. It just goes to show you that you can't stop mishaps from happening and you shouldn't let them put you off travel. You can learn from these experiences and you just have to get on with things as positively as Ellie did!
Top Tip: Iceland's currency is the Icelandic króna. But I don't recommend changing your local currency for wads of Icelandic cash. Everywhere accepts credit and debit cards and there doesn't appear to be a spending limit to use them. Plus, this seems to be what Icelanders prefer to take as payment. I exchanged around £30 worth of Icelandic króna before I left and it burned a hole in my pocket for days before I finally spent it.
Dinner: Bæjarins Beztu Pylsur Hotdog Stand & The Laundromat Cafe
We were famished by this time as we'd barely eaten all day. Luckily, the pharmacist was just around the corner from Bæjarins Beztu Pylsur Hotdog Stand. It was one of Ellie's few requests that we visit a hotdog stand because they're so popular in Nordic countries. This hotdog stand, in particular, is the best in Iceland and had only four things on its menu: hotdogs, fries, coke, and Prince Polo chocolate bars. I love it.
We turned our hotdog snack into a meal by popping into The Laundromat Cafe for fries and beer afterwards. This restaurant/cafe/actual laundromat (I checked!) is a Reykjavík institution. They artfully straddle the line between cool yet unpretentious. You must go to this place for dinner, lunch, or coffee and cake when you visit Iceland.
Drink Local Icelandic Craft Beer at Skúli Craft Bar
Though we were both yawning every 17 seconds by this point in the evening, we soldiered on to pay Skúli Craft Bar a visit. Did you know that beer in Iceland was illegal until 1988?! Thankfully, it isn't anymore. We both sampled beer from two Icelandic craft breweries, Borg Brugghús and Malbygg.
Top Tip: Because Iceland can be an expensive country to visit, you'll find that most bars have happy hours from around 16:00 to 19:00. Some even start at 12:00! They will either state this on a chalkboard outside their bar or on their social media pages.
5 Day Iceland Itinerary: Day Two (Reykjavík)
Walk Along Reykjavík Harbour
Let's get stuck into the main course of our 5 days in Iceland itinerary. Jet2holidays offers a range of hotels on their winter city breaks to Reykjavík, but we chose one near the harbour. That's where we began our first day exploring Reykjavík.
First, we walked down the Sculpture & Shore Walk to the Harpa Concert Hall. It's a beautiful building with mirrors on its facade so they look like fish scales when they glisten in the sun.
Nearby, we had our own mini photoshoot at Ingólfsgarður Lighthouse, one of three identical bright yellow lighthouses that stand proud on Reykjavík's coast. If you're also a fan of the Accidentally Wes Anderson Instagram account, you'll understand why we just had to visit these lighthouses. The other two lighthouses are Höfði Lighthouse (arguably the more popular one) and Nordurgardi Lighthouse.
Our last stop on the harbour was the Sun Vogayer Sculpture. Constructed in 1990 to mark Reykjavík's 200th birthday, it resembles a Viking ship. I've seen gorgeous photos of this structure at sunset but I knew the weather during our 5 days in Iceland would be cloudy at best. The time of day wouldn't have made much difference!
Top Tip: Whale watching and puffin spotting are two top Iceland activities during the summer months. We visited at the end of winter, so we didn't book these excursions but put them on your list if you are visiting when it's warmer! You can book whale watching tours from the harbour.
Order a Coffee and Pastry Break at Brauð & Co.
We slowly battled through the snow and wind that had just picked up to find some respite for a while. We went to Brauð & Co. which I understood was a cafe that baked excellent pastries. But in reality, it was a bakery that happened to provide filter coffee for its customers. Lots of people were popping in for a loaf of rye bread and pastries to take away, though, so it must have a fantastic reputation. Luckily, we sat in the only two seats in the shop and we shared a very delicious pastry.
You should definitely plan a pit stop at at least one of Reykjavík's many, many phenomenal cafes for pastries. These are some others that I had on my list from my research: Café Babalú, Mokka Kaffi, and Kaldi Bar/Café.
Explore the Cool Murals and Shops Around Laugavegur
Laugavegur is Reykjavík's main shopping street and here you'll find lots of shops selling clothes, tourist fare, and local artisanal products. It's somewhere you cannot avoid on an Iceland 5 days itinerary and you should enjoy a wander around.
This general area is where you'll find some of the best street art and murals in Reykjavík too, including Rainbow Street, Viking Mural, and Vampire Mural. You can easily find these murals on Google Maps or on the map at the top of this blog post. You'll naturally see lots of street art as you walk around so don't worry about seeking out murals too much. They'll find you!
If you're an avid reader like me, Penninn Eymundsson is a local Icelandic bookshop chain. I visited their Skólavörðustíg branch and they had lots of books in English including works by Icelandic authors and Norse folklore.
---
Read next: Eurovision Song Contest: The Story of Fire Saga Filming Locations in Scotland & Iceland
---
Witness the View From the Top of Hallgrímskirkja Church
With the snow settled and the clouds lifted, we took our chance to see Reykjavík from above. The best way to do this also happens to be one of Reykjavík's top attractions: Hallgrímskirkja. This Lutheran church only dates back to 1945 and it's named an Icelandic hymn writer and priest.
Don't worry, you don't have to walk up 569 steps to reach the top of the tower. There's a lift! The view is a cracker and the church's interior is pretty special as well. The church bells chime every 15 minutes so make sure you stick around if you want to aggravate your tinnitus (in my case).
Lunch: Skál! at Hlemmur Mathöll Foodhall
Hlemmur Mathöll was a recommendation from Emma, a friend of Ellie and mine who visited Iceland the month prior, and it was a great choice for our lunch in Reykjavík. It's a food hall with restaurants serving all kinds of cuisine from Napoli pizzas to tacos. We chose to eat at Skál! which promised traditional Icelandic foodie fare with a contemporary twist. It was, without a doubt, our favourite meal of the trip.
I'm finding more and more of these upmarket food halls when I travel and I'm all for it. I'm usually a solo traveller and these types of food halls mean I can enjoy nicer food without having to go through the performance of asking for a table for one and sitting in silence for 90 minutes at a stuffy restaurant.
Fun Fact: Skál is the Icelandic way of saying "cheers." Actually, it's the Nordic way of saying "cheers" but other countries may spell it skål, skaal, skoal, or skol. I've heard two stories that explain the origins behind this toast. The first is that it translates to the word "bowl" as people used to pass around a bowl of beer for everyone to drink from. The second is that it translates to the word "skull" because the Vikings used to drink from skulls. The second version is more interesting, so it's the one I choose to believe.
Explore One of Reykjavík's Many Cultural Museums
Reykjavík is the capital city so all of Iceland's top museums are here. If you are only spending one day in Reykjavík on your 5 Day Itinerary Iceland like us, you probably only have time to see one. We chose to visit the infamous Icelandic Phallological Museum. Yup.
I thought it would be a hilarious, tongue-in-cheek museum with tribal statuettes, risque old-timey advertisements, and other phallic related in-jokes. But it was only okay and the exhibits were much more serious and scientific that I expected. Around three-quarters of the museum is literally animal penises in jars. They did have a bar so you could drink whilst you wandered through the museum which was great because you'd definitely need to!
Here are some other museums you could visit instead: Kjarvalsstaðir Art Museum (apparently better than the National Gallery of Iceland), Icelandic Punk Museum, and the National Museum of Iceland.
Stroll Around Tjörnin and Take in the Sights
Slightly out of the city centre is Tjörnin, which can only be described as either a large pond or a tiny lake. Houses and a few other notable landmarks surround it including Reykjavík City Hall, the National Museums, and a statue called Monument to the Unknown Bureaucrat. It was a little underwhelming when we visited on an overcast day but I bet this area (including Hljómskála Park next door) is gorgeous in spring/summer.
Dinner: The Lebowski Bar
I'd exhausted both myself and Ellie after all these activities, as we had been walking up and down Reykjavík all day like a yo-yo. We returned to our hotel to ignore each other on our phones for a while before venturing back into the city for a laidback dinner.
We went to a place that had The Big Lebowski (1998) as its theme, unsurprisingly named The Lebowski Bar. Now, themed bars can be hit-and-miss in their quality but wow, this bar understood the assignment. Every inch of that bar's decor was on-brand including bowling pin beer taps, rugs stuck to the walls, and a cocktail menu just for different types of White Russians. They served average bar food (and I'm sure Ellie would want me to tell you that her burger wasn't cooked through) but it was a fun spot for drinks.
That wraps up Day One of this itinerary for Iceland for 5 days! Onwards to Day Two…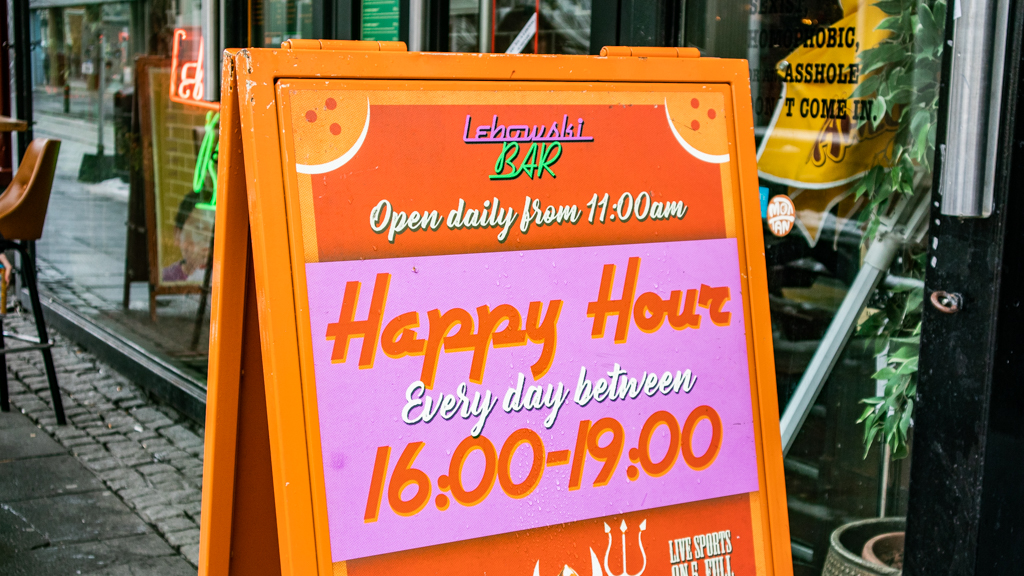 5 Day Iceland Itinerary: Day Three (Golden Circle Route)
Kerið Volcanic Crater Lake
You cannot visit Iceland without exploring the countryside. We had time for one big day trip so we chose the Golden Circle Route. This route covers three or four different natural Icelandic landmarks within a couple of hours' drive from Reykjavík. It's the tour that all first-timers in Iceland venture on, so it was an obvious choice. We booked our tour with BusTravel Iceland through Get Your Guide with a hotel pick-up and it was spot on. There are tours that combine the Golden Circle Route with the Blue Lagoon and that's a great idea if you're short on time.
The first stop on our Golden Circle tour was Kerið Volcanic Crater Lake. It's 3,000 years old and it's… Well, it's a big lake! You can walk around the whole thing in about 20 minutes. It was a very overcast, snowy, rainy, windy, and cold when we visited so my photos from this trip will be in fifty shades of white.
Gullfoss Falls
Can you create an Iceland in 5 Days Itinerary that doesn't include a visit to a waterfall? Gullfoss means "gold falls" and while it didn't look very gold when we visited, the sheer scale and power of this waterfall were fantastic. I'm very happy I wore fur-lined boots with fold-out crampons on this trip, though. Everywhere was icy. And yes, I understand this is literally the land of ice and perhaps this is something I should have foresaw.
---
Read next: Stardust Filming Locations in Scotland, England & Iceland
---
Geysir Hot Spring Area & Strokkur Geyser
Our third stop on the Golden Circle Route is the most famous natural phenomenon and is why most people know about this tour. Geysir is a geyser (the name of this natural event came from the first known one) which means it's a hot spring that erupts during thermal energy decompression. Or something. I'd research it yourself because that's probably a terrible explanation.
Even though Geysir is the most famous geyser, it's largely dormant nowadays. However, Strokkur is another geyser right next to Geysir that erupts every 10 minutes, or so we found. On the very blustery day that we visited, it didn't manage to get very high. But, you know, still cool to see!
Lunch: Geysir Centre and Canteen
We ate lunch at the large visitors centre across the road from the Geysir Hot Springs. As you'd expect, it was very busy with multiple tour groups all vying for food and trinkets at the same time. If you go on this tour and you have a 15-minute break at Sunnumörk shopping centre and services as we did, I recommend buying food at the bakery there, called Almar Bakari, for lunch.
Þingvellir National Park
Our last stop was Þingvellir National Park (pronounced thing-ve-clear). It has both historic and natural significance for two reasons. First, it was where Iceland's Viking parliament gathered between the 10th and 18th centuries. Second, it's a rift in a valley caused by the separation of Eurasia and North America's tectonic plates. Iceland increases by around 5cm every year because of the movement of these plates.
Even though everyone was completely drenched by this point in the day, I think Þingvellir was my favourite part of the tour. The ridges and small waterfalls were so cool and there were lots of lookout points over the park. On a clearer day, the experience would have been even better.
Note: Gullfoss, Geysir Hot Springs, and Þingvellir all have visitor's centres with tourist shops and toilets. You don't have to worry too much about facilities on this trip.
Dinner: The Sea Baron
After the tour bus dropped us off at our hotel, we quickly threw our gloves on the radiator and warmed up before heading out for dinner. Luckily, we didn't have far to go as The Sea Baron is near Reykjavík harbour. It's an Icelandic institution and popular with tourists, students, and locals alike. There isn't a "menu" as such. You choose the fish you want to be chargrilled from their fridge and their selection depends on the day's catch. But they always have lobster soup and bread available, too. Great end to a great day!
---
Coming soon: The Secret Life of Walter Mitty Filming Locations in Iceland
---
5 Day Iceland Itinerary: Day Four (Blue Lagoon & Northern Lights)
Arriving at the Blue Lagoon Hot Springs
Our first two days of our 5 day Iceland itinerary were jam-packed. I wanted to make sure our last day wasn't so hectic. So, I booked the Blue Lagoon hot springs (the N.1 tourist attraction in Iceland!) so we'd be able to properly relax.
Contrary to popular belief, the Blue Lagoon isn't a natural hot spring. It consists of both freshwater and seawater heated by the nearby thermal power plant. The water is naturally high in sulfur and silica which is supposedly great for your skin, awful for your hair, and bloody lovely to float around in.
The Blue Lagoon is nearer Keflavík Airport than it is Reykjavík so you'll need to arrange transport. I booked hotel pickup and drop off with Destination Blue Lagoon which you can do at the same time you book your tickets to the springs. I opted for the 10:00 slot which meant we got picked up from our hotel around 8:30/9:00 and were in the water mere minutes after our timeslot. And for our return journey, I booked the 13:15 bus which turned out to be perfect timing.
Top Tip: All you need to bring to the Blue Lagoon is your swim gear, a dry bag, and perhaps a waterproof phone pouch like I did (this was ideal for taking photos in the water). They provide towels, wristbands to pay for things, and haircare products. You don't need flip-flops and you really don't need to pay for a package above "comfort" just to get a robe. You'll barely wear it.
Meanwhile, at the Blue Lagoon Hot Springs…
I LOOOOVED the Blue Lagoon. I had no idea what to expect but it was awesome. You're just floating around in a big bath for two hours, what could be awful about that?! And because we went to the Blue Lagoon in the morning, we missed all the tour groups arriving in the afternoon so it was pretty quiet.
We opted for the basic comfort package and I really didn't feel like we needed to pay for upgrades. This package includes one silica face mask and one drink which was perfect. You can reuse the glass if you want to drink some water as there are a couple of taps dotted around too.
Top Tip:
Read the Blue Lagoon's
FAQs page
before you go. The water can damage jewellery, glasses, etc. so it's best to know exactly what you can and can't wear before you set foot in the water.
Lunch: Íslenski Barinn
By the time we got back to Reykjavík and sorted ourselves out, we didn't eat lunch until around 15:00/16:00. You might prefer to grab something small at the café at the Blue Lagoon first.
We chose to eat at Íslenski Barinn. They served lots of traditional Icelandic food like hot dogs, seafood, and lamb. Plus, they had lots of Icelandic beers on tap including something I'd never had before: a dark lager. Never even heard of it and I'm a fan!
Want some more food recommendations? I had a restaurant called Kröns on my list which I really wanted to visit because it was a street food-style restaurant with an Icelandic twist. But for some reason, it closed at 20:00 and wasn't open on Sundays! And if you're happy to splash a bit more cash than I was, Café Loki is a no brainer. They serve all the top Icelandic staples like rye bread, skyr, and seafood on tasting platters which look incredible.
Head Out for Gelato at Gaeta Gelato
Ellie told me that she'd read Icelandic people love gelato and eat it year-round. I was sceptical. Even though I knew that dairy is a huge part of the Icelandic diet, it didn't make sense that people who live in a country that is below freezing most of the year would like to eat such cold food.
I was wrong. And I was very happy to be wrong because it meant that there were gelaterias all over the city!
We visited Gaeta Gelato after lunch for a couple of scoops of the good stuff. I also read positive things about Valdís and Omnom Chocolate Ice Cream Shop. Omnom is a local chocolate bar made in Reykjavík that you'll see in all the supermarkets. If you go there, you'll have two cultural experiences in one!
Venture on a Northern Lights Tour With Jet2
If you book a Reykjavík city break with Jet2 during the winter months, you get a Northern Lights tour included. It begins around 20:30 and you'll arrive back at your hotel just after midnight. But you don't learn which evening the tour will happen on until your coach transfer from Keflavík airport to Reykjavík. This is so they can choose the night with the best weather forecast.
For us, it was Sunday night. We drove out into the countryside so we could see the sky better, and… We saw the Northern lights! One of the seven natural wonders of the world! Yes, they were very, very, very faint and I did not have my tripod with me, but I'm still counting it. Next time, I'll be better prepared but for now, I'm content with having seen the aurora borealis in any form.
5 Day Iceland Itinerary: Day Five
I did mention that two of the days on this Iceland itinerary would be travel days and wouldn't feature many activities. Well, we didn't do anything at all on day five! Our coach transfer picked us up from our hotel around 9:15 to take us back to Keflavík airport for our flight. So we only had time to do some last-minute packing and eat breakfast at our hotel.
How to Travel to Iceland: Flights
Jet2CityBreaks fly from Manchester Airport as well as nine other airports around the UK, but Manchester is the nearest to my hometown. During the winter months, Jet2 has Iceland flights from Manchester at least once a week on Thursdays for the perfect Icelandic long weekend break.
One of the best things about booking a city break package with Jet2 is that they also provide coach transfers for both your outbound and return flights. Most flights to Iceland arrive at Keflavík International Airport which is roughly a 45-minute drive from Reykjavík. Hailing a taxi in an expensive country like Iceland is out of the question so coach transfers are ideal.
How to Get Around Iceland: Public Transport & Tours
Though there are proposals to build a light rail network between Reykjavík and Keflavík, Iceland does not currently have any trains. There is a bus network though I never used it during my trip. You can find timetable, route, and price information concerning Iceland's bus system here.
There are no ride-hailing companies like Uber or Lyft in Iceland. And as I said before, taxis are expensive and not commonly used. Reykjavík is small enough for people without accessibility issues to walk from place to place. Locals or tourists wanting to explore Iceland outside of the capital will almost certainly rent cars.
It's likely that the only mode of transport you will use during your Iceland 5 day Itinerary is coaches, either on tours or transfers. I always book tours through Get Your Guide because they have a generous, blanket cancellation policy on every activity.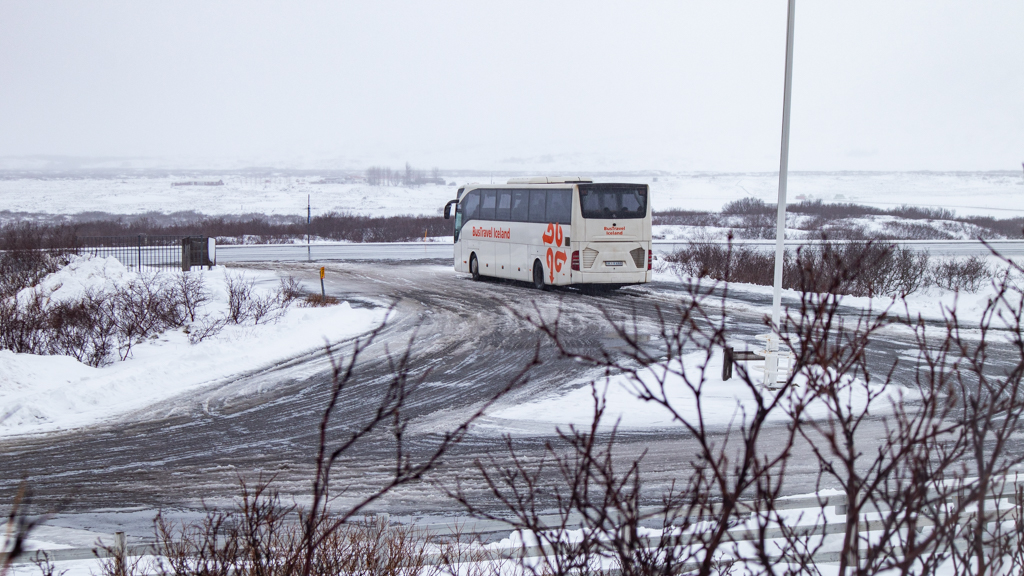 Accommodation in Iceland: Hotels
We stayed in the CenterHotel Grandi on our Jet2holidays city break and what a gorgeous hotel. CenterHotels are a local, Icelandic family-run chain so you'll see a few of their hotels during your time in Reykjavík. Hotel Grandi is right on the harbour and there's tons of development happening at the moment so it will soon be an up-and-coming neighbourhood for sure.
Our room had a minimalist, Scandi, seventies vibe and the bed was so comfortable. The hotel had a cosy seating area, tables with outlets for remote workers, a chill bar and a restaurant too. But the pièce de résistance was the breakfast which was included in our stay. The buffet offered everything from continental selections to cooked offerings and some of the most delicious pastries. Eating breakfast at your hotel is one of the best ways to save your pennies in Iceland.
And that was our incredible 5 day Iceland itinerary thanks to Jet2CityBreaks! Have you visited Iceland or considering a trip there? Let me know in the comments below!
---
Read next: 2-Day Madrid Itinerary: A Slightly Alternative Travel Guide
---