I love writing about filming locations, especially in Scotland, but hadn't watched Highlander yet. But after I googled, "where was Highlander filmed?" I learned some of the Highlander filming locations in Scotland are in the Isle of Skye! And I love the Isle of Skye, so here we are.
Highlander (1986) begins in 1518 when Connor MacLeod is born in the Scottish Highlands. He is an immortal and meets another immortal who teaches him how to fight and the way of life for immortal beings. Highlander takes place in Scotland and New York City, spanning several eras and cultures.
Highlander is a really entertaining, fantasy movie. The tagline, "There can be only one", is (somewhat) iconic and it's spawned a massive cult franchise. But we're only talking about the first, and best, Highlander movie today. For me, there can be only one Highlander film. Let's also not confuse this film with the hugely popular Outlander TV show, either.
There are some cracking Highlander locations in Scotland as well as New York City and a few dotted elsewhere. And if you've visited the Highlands, you may recognise many of these places.
Where was Highlander Filmed in Scotland and New York City?
Highlander Filming Locations in Scotland
1. Eilean Donan Castle
Highlander unravels the multi-generational story in a series of flashbacks.
The first Highlander filming location in Scotland is none other than Eilean Donan Castle in the Kyle of Lochalsh near the Isle of Skye. Yes, it's the Highlander castle in Scotland! This is usually the location film fans are after when they search "where was Highlander filmed?" The castle is supposed to be in the village of Glenfinnan, but the real-life village is miles away from this castle.
Built around 1220, the Highlander movie castle is the most photographed castle in Scotland. And considering Edinburgh Castle is in the capital city and is much easier to reach, that's quite an achievement.
2. Glen Etive
During Connor's first battle scene, Clan MacLeod is fighting against Clan Fraser. The Kurgan, an immortal who wants to kill Connor, is fighting alongside Clan Fraser.
This battle takes place in Glen Etive, with the Buachaille Etive Beag mountain visible in the distance. It's very, very close to the famous Glen Coe.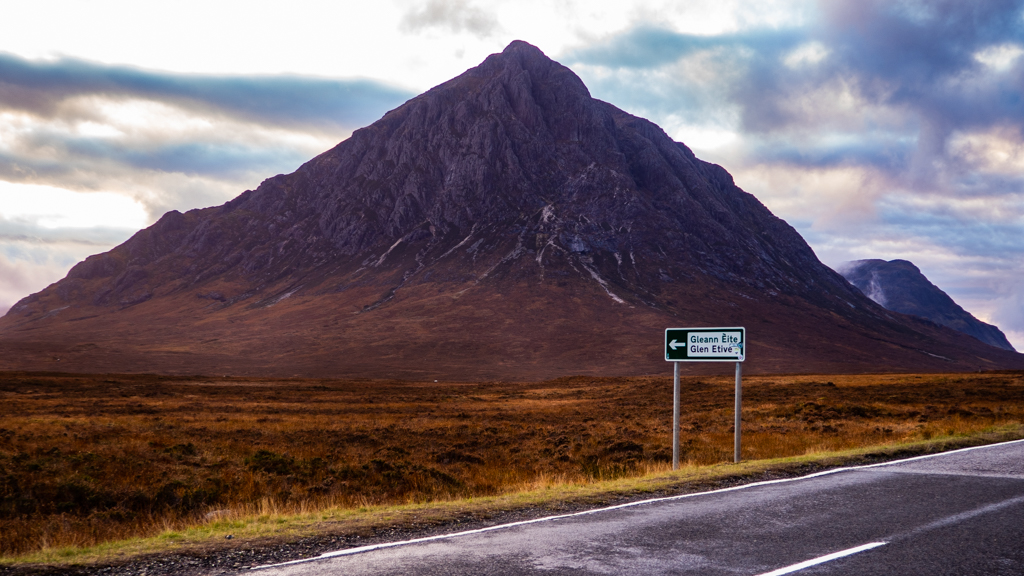 3. Ralston Cairn, Glen Coe
After he's banished from Glenfinnan, Connor heads deep into the Highlands and ends up marrying Heather and living in a remote tower. The tower is either painted in or a set piece, but it's located very near The Three Sisters mountains in Glen Coe. The best location marker I can give you is the grave of Ralston Cairn who was buried in the glen.
It's an absolutely gorgeous spot and there are plenty of small car parks along the A82 road so you can stop and take photos.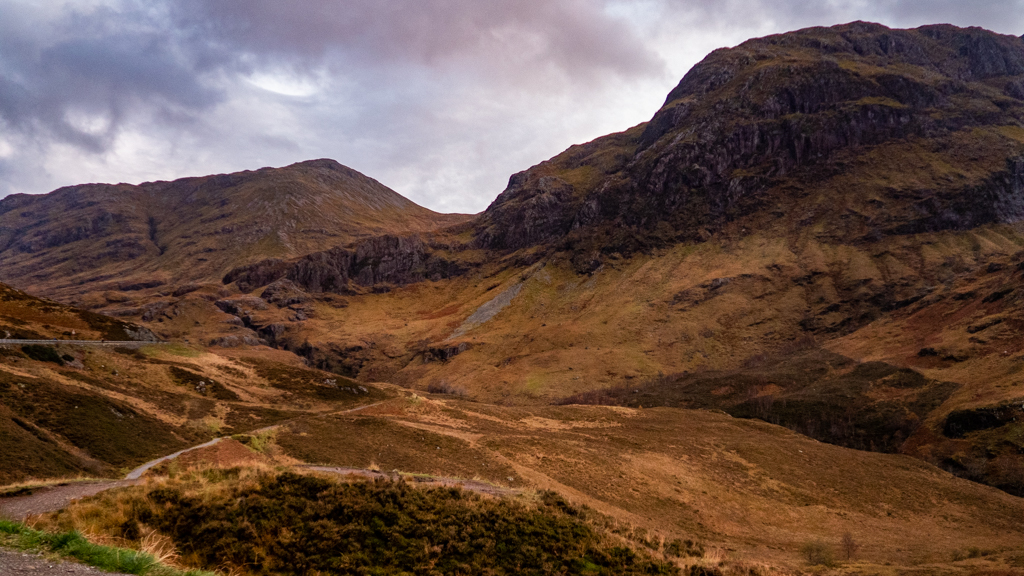 4. Loch Shiel, Glenfinnan
When Juan Sánchez-Villalobos Ramírez (played by Sean Connery) shows up, he begins teaching Connor MacLeod the ways of the immortal. After all, Kurgan has targeted Connor so he needs to learn to fight back.
Ramírez takes Connor out on a rowing boat in the middle of Loch Shiel. It's a very cinematic loch because it's also one of the most notable Harry Potter filming locations as well as one of the Highlander movie locations.
---
Read next: Harry Potter Filming Locations in Scotland: A Complete Guide
---
5. Trotternish Ridge, Isle of Skye
There are many epic Highlander film locations in Scotland when Ramírez and Connor are practising their swordsmanship. One is on the Trotternish Ridge which is basically a small mountain range in the Isle of Skye. I believe they are fighting on the edge of a mountain called Bioda Buidhe which has a pointed rock you can see from the top (and in the film). The Quiraing is very visible in the distance.
6. Torridon Hills
Wow, Connor and Ramírez are getting about a bit! And they're witnessing some gorgeous vistas during this medieval training montage. Next, the pair is up Torridon Hills to practice something that looks like Tai chi with swords. In reality, Highlander dropped two stunt doubles at the top of the hill for this scene. I mean, it is only about 10 seconds long.
7. Silver Sands of Morar, Mallaig
In one of these short training scenes, Ramírez is riding a horse on a beach and he's forcing Connor to run as fast as possible to keep up with him. But in a slightly more notable scene, Ramírez teaches Connor to feel a quickening.
The beach is called the Silver Sands of Morar, and it's on River Morar feeding into Loch Morar. The beaches in this part of Scotland are just beautiful. Camusdarach Beach in Mallaig is only a 5-minute drive away and this beach was used as a principal filming location in Local Hero (1983).
8. Cuillin Hills, Isle of Skye
Yet another practice swordfight, and this time the immortal buddies are practising on a precarious ridge in the Cullin Hills. Specifically, this ridge is called the Cioch Buttress on Sron Na Ciche and it's near the Sgùrr Alasdair mountain on the Isle of Skye.
This is where Connor finally bests Ramírez in a swordfight and it's the sort of location that makes my palms sweaty. Do. Not. Like. Heights.
---
Read next: 8 Epic Isle of Skye Filming Locations to Discover in Scotland
---
9. Glen Nevis
After all the swordfight training is over, Ramírez tells Connor some hard truths: he can't have children and he must leave his wife, Heather. The two immortal men have this conversation while walking through a lively village market. It's all a set in Glen Nevis, near the Water of Nevis and Lower Falls.
Highlander Filming Locations in New York City
10. Peter McManus Cafe
After forensic scientist Brenda Wyatt gets spooked collecting metal samples from the Madison Square Garden car park, she heads for a cold one at Peter McManus Cafe, which is an Irish pub in Manhattan.
While many of the New York City exteriors are authentic, a lot of the interior Highlander filming locations were actually shot in Jacob Street Studios, London.
11. 71 Greene Street, Soho
Russell Nash AKA Connor MacLeod owns an Antique shop in his present-day New York City life. Seems like the ideal job for someone who's approx 500 years old, right?
Apparently, his antique store is on Hudson Street but it's actually a huge place on Greene Street in Soho, Manhattan.
12. Bow Bridge, Central Park
Connor meets up with a fellow immortal and friend named Kastagir on Bow Bridge in Central Park where they reminisce about old times.
13. Canal Street
Though the fatal sword fight between Kurgan and Kastagir was shot in a London alleyway, the car chase was shot in New York. Kurgan hops into a car with an older woman he names Mom, and they screech down Canal Street near Broadway in Manhattan.
14. St Regis Hotel
After a number of beheadings in the city, naturally, the NYPD isn't going to let them slide. The two detectives on the case question a hospitalised police officer after the hoo-ha in the back alley. Unfortunately, they don't make any progress with their case, but they do stop to buy a hot dog across the street from the St Regis Hotel on East 55th Street.
15. Prospect Park Zoo
Before the final fight scene, Brenda and Connor spend some time together watching lions scrap in a cage at Prospect Park Zoo in Brooklyn. Possibly some kind of imagery for Kurgan and Connor's fight to come, no?
16. Queensboro Bridge
Kurgan kidnaps Brenda and scares her sh*tless by driving erratically across the Queensboro Bridge.
17. SilverCup Studios
By kidnapping Brenda and tying her to a neon sign, Kurgan draws out Connor MacLeod so he can face him one last time. Kurgan's fight location of choice is the roof of the SilverCup Studios in Long Island City. The gushing water, smoke and electricity flares do make for a rather dramatic final scene!
Highlander Filming Locations Elsewhere
18. Meadowlands Arena, Meadowlands Sports Complex, New Jersey
Highlander opens in the present day, 1985, at a wrestling match where there is a fatal sword fight between immortals Connor McLeod and Iman Fasil. They're supposed to be at Madison Square Garden in New York City, but the filming location is the Meadowlands Arena AKA Continental Airlines Arena AKA IZOD Arena in the Meadowlands Sports Complex in New Jersey. The Meadowlands Arena has now shut down, but the Sports Complex is still home to the MetLife Stadium.
19. Greenwich, London, England
Unfortunately, I don't know the exact Highlander location. During a flashback, MacLeod is fighting against the Nazis in a WWII flashback and he saves Rachael as a young girl. Somewhere in Greenwich, London is the setting for this scene.
20. Brocket Park, Welwyn Garden City, England
When MacLeod and Kastagir reminisce about a duel that MacLeod had, they state it happened in the 1700s on Boston Common, which is a city park. The real-life Highlander locations in this scene were shot in Brocket Park, next to Brocket Hall in Hertfordshire, England.
21. Shad Thames, London, England
Just after Kastagir's arrival in New York City for the Gathering, he comes face to face with the Kurgan and unfortunately loses his head and his life. The back alley where the scene is set isn't actually in Manhattan, it's Shad Thames in London. Other alleyway fight scenes may have shot in this street, too.
22. National Liberal Club, London, England
Not satisfied with Russell AKA Connor's answers, Brenda takes matters into her own hands and does some research. She heads to the New York City Public Library, which is actually the National Liberal Club in London. It's an incredibly exclusive (read: elite) private member's club in Westminster.
23. St Augustine's Kilburn Church, London, England
When Heather dies, she asks Connor to light a candle for her every year on her birthday. Connor keeps his promise and heads to a Catholic church in New York City to honour his deceased wife before Kurgan rudely interrupts him. But the church isn't in New York, nope. Because where was Highlander filmed? London, apparently. This church is actually the St Augustine Kilburn Church in London.
Where was Highlander filmed? Several places around Scotland and New York City! Have you watched the film? Or visited any of the Highlander filming locations? Let me know in the comments below!
---
Read next: Outlaw King Filming Locations in Scotland
---